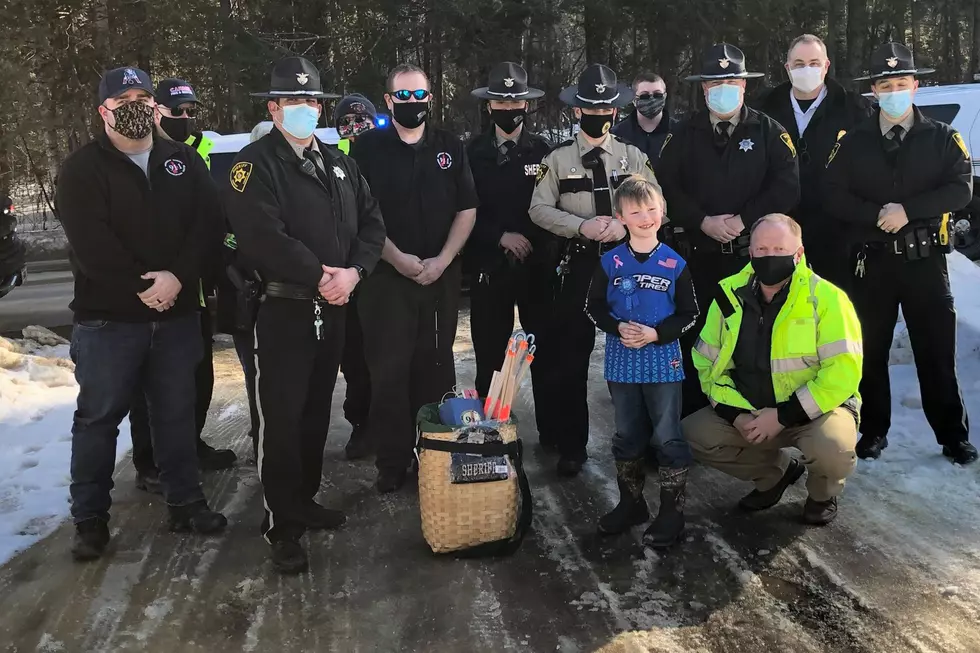 Penobscot Sheriff's Department Repays Respect To Young Bentley
Penobscot County Sheriff's Department via Facebook
Just a few weeks ago we told you of an amazing act of kindness displayed by a young man from Carmel towards a deputy who was eating his lunch outside the The Village Market.
As fate would have it that day, the credit card machine was not working when Deputy Mark Fucile came in for his lunch. While the deputy was eating his lunch inside his cruiser out in the parking lot, an 8 year-old ice fisherman named Bentley came in to buy bait, with cash.
Bentley paid for the Deputy's lunch. All is not wrong with the world.
So yesterday the troops showed up to pay their respect.
Penobscot County Sheriff's Deputies, Correction officers, the Sheriff himself, along with members of the Carmel Fire Department, Public Works, and even the town manager, all came to Bentley's home bearing gifts and to give the young ice fisherman a big "thank you" and to wish him a happy birthday.
How cool is that? Very.
Just imagine being Bentley's age and having all this happen just for you.
Yes, kindness exists in all forms, and a simple act of it can multiply and go a long way.  Good job, everyone!
READ ON: See the States Where People Live the Longest
Read on to learn the average life expectancy in each state.
The 100 Best Places to Live on the East Coast
More From WQCB Brewer Maine