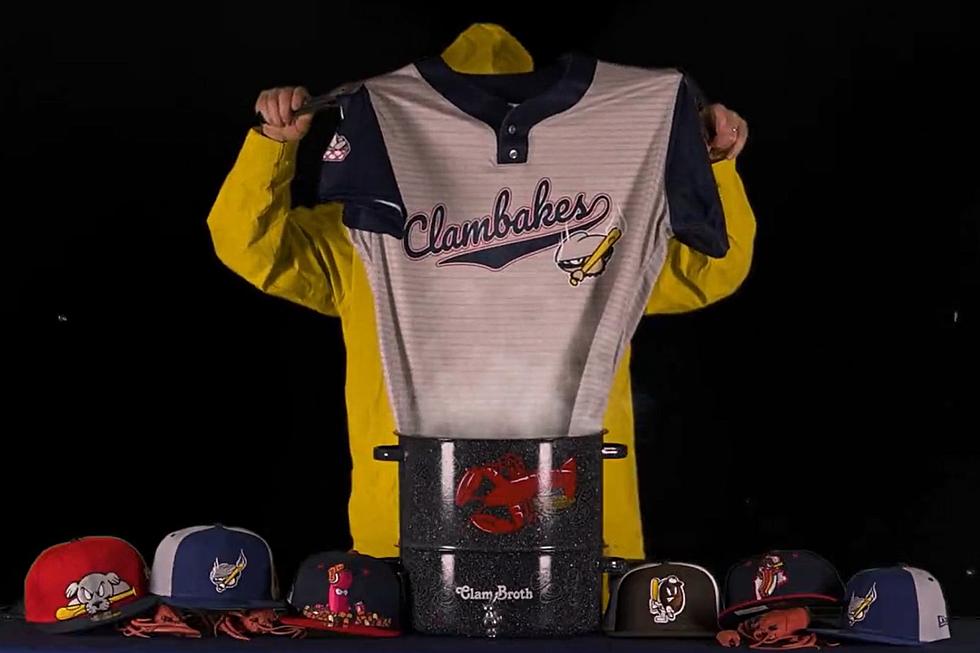 The Portland Sea Dogs Are Rebranding in August
Credit: @PortlandSeaDogs / Twitter
Say goodbye to Slugger, well, for one night.
The Portland Sea Dogs baseball team is getting ready for a steamed-up rebrand on Friday, August 25th, when they host the Richmond Flying Squirrels at 6 p.m. at Hadlock Field. For this game, the team will refashion themselves as the Maine Clambakes to celebrate the traditional New England cuisine.
The Maine Clambakes will be joining a lengthy, and prestigious list of other alternate identities for the Portland baseball club. They have gone (and will continue to go) by the Maine Whoopie Pies, the Maine Red Snappers, and the Maine Bean Suppah, on special occasions. We've got a baseball equivalent to WWE's Mick Foley.
The Maine clambake is a beloved culinary tradition that has been a part of celebrations and gatherings for folks in the region for centuries. The traditional clambake includes a variety of seafood, such as lobster and clams, as well as corn on the cob, potatoes, and blueberry cake. The food is traditionally cooked by steaming the ingredients over layers of seaweed in a pit oven. YUM!
"We are excited to celebrate this tradition with Sea Dogs baseball to showcase the culinary cuisine that helps define our region," said Sea Dogs President and General Manager Geoff Iacuessa.
To mark the occasion, the team will wear specially designed Maine Clambake jerseys and hats for the game. Fans can also expect various clam-themed promotions throughout the night. If you're interested in showing your support for the Maine Clambakes, you can purchase merchandise from the souvenir store at Hadlock Field or on the team's website. 
It's sure to be a unique and fun-filled night for baseball fans and New England foodies alike. So mark your calendars for Friday, August 25th, come out to Hadlock Field to join in the celebration of this beloved New England tradition, and to watch the Sea Dogs whoop the Flying Squirrels' behinds.
See the team's announcement below.
LOOK: MLB history from the year you were born
Stacker
compiled key moments from Major League Baseball's history over the past 100 years. Using a variety of sources from Major League Baseball (MLB) record books, the Baseball Hall of Fame, and audio and video from events, we've listed the iconic moments that shaped a sport and a nation. Read through to find out what happened in MLB history the year you were born.
More From WQCB Brewer Maine