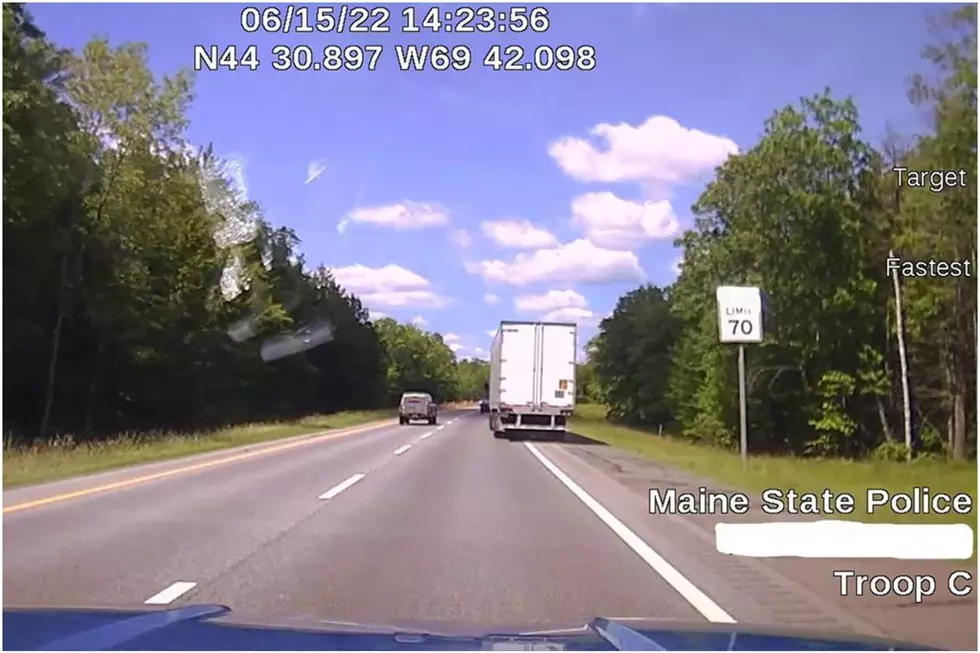 Sidney Trucker's Blood Alcohol Level was Allegedly 4X Legal Limit
Maine State Police
Maine State Police say the driver of a tractor-trailer they stopped in Sidney was allegedly drunk behind the wheel.
It was just after 2:00 Wednesday afternoon when State Police received two independent 911 calls from drivers who were concerned about a tractor-trailer driver. They told police the driver was operating the unit erratically, almost hitting other vehicles as the rig swerved in and out of its lane while traveling northbound on I-95 in Sidney. This picture, taken by the Trooper's dashcam, is not of the truck pulled over, but as it was being driven down the highway.
A Trooper sped to the scene and was able to locate the truck, witnessing the erratic driving. The tractor-trailer was pulled over and the Trooper made contact with the driver, who is a resident of Ohio. The driver's name has not been released. Backup from the Maine State Police commercial vehicle unit was called in, and officials conducted a search of the vehicle. In that search, police found evidence of hard alcohol in the truck's cab.
The driver was given a sobriety test, during which it was discovered that his blood-alcohol level concentration was allegedly four times the legal limit of .04.% while operating a commercial vehicle. He was arrested for operating under the influence and taken to the Kennebec County Jail and the truck was safely removed from the interstate.
No one was hurt in the incident.
This case is a good example of Maine law enforcement's encouragement of residents to report any suspicious behavior they witness. If this driver had been allowed to continue, someone could have been seriously hurt. Remember, if you see something, say something.
The 25 Intersections in Maine That Had The Most Crashes in 2021
The Maine DOT keeps a record of accidents at intersections throughout Maine, and these are the 25 intersections that had the most in 2021.
20 Maine News Stories that Have Shocked Us Since the Year 2000
These 20 news stories, from the past 21 years, had an impact felt around the state. Here are the stories that captured our attention are listed in no particular order.
More From WQCB Brewer Maine