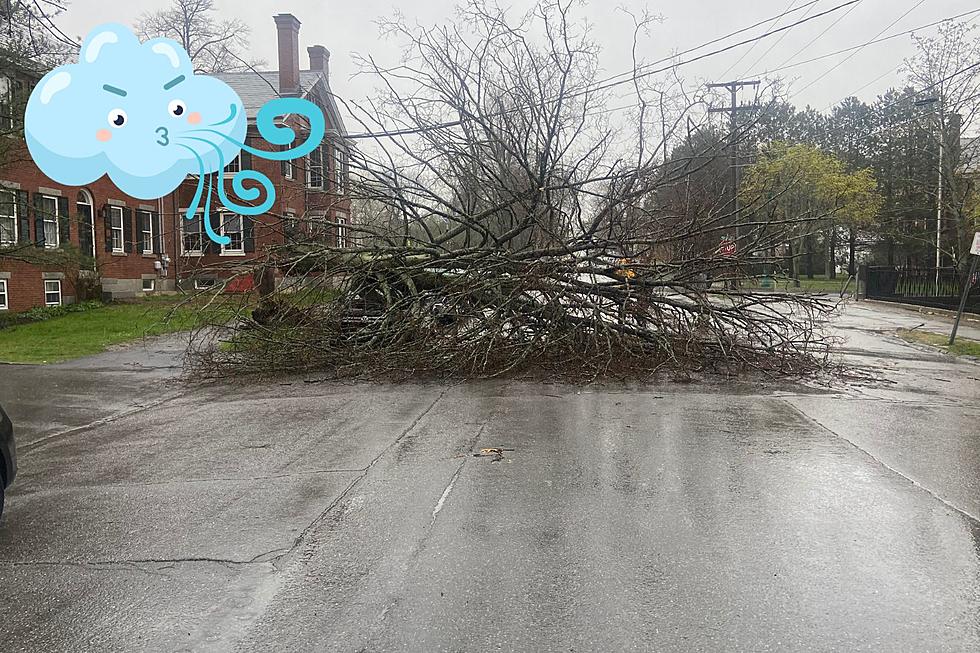 Watch for Downed Trees on the Road Today, Like This One in Bangor
Chris Popper, Townsquare Media Bangor
It's a day for extra vigilance behind the wheel, as downed trees and flooding are causing some travel hassles.
Is There a Lot of Tree Damage?
On my way in from Orrington this morning, I came across a piece of a birch tree that was laying across 1 1/2 lanes of Betts Road, multiple pieces of tree debris in the road, and a flower pot in the middle of my lane on South Main Street in Brewer. The high winds are wreaking havoc across the state and making commutes challenging. In Bangor, a good-sized tree fell across Somerset Street, near the new gymnasium at John Bapst Memorial High School. At the last report, traffic was moving through there, with one lane of travel. But the street will, likely, be shut down at some point so tree crews can remove it.
As you're traveling around your community this morning, be watchful for everything from trees and tree limbs to trash cans and lawn chairs in the roadway. Don't speed and be ready to stop or swerve to avoid having a crash that will make a rainy Monday even worse.
What About Flooding?
Many roads are being closed by flooding, as well, after the heavy rains that started Sunday night. Motorists are reminded to never drive onto a flooded roadway because you never know what's under the water. It could be a downed tree or, worse yet, a sinkhole or crumbled pavement from a washout. If you see a flooded portion of the road, the best advice is to turn back and find another way around. Before heading out, check the Maine Department of Transportation's 511 traffic map for an updated list of flooded roads.
Who Do I Contact If I See Something That's Blocking Traffic?
Give yourself some extra time for this morning's commute and avoid the typical distractions, like your cell phone, so you can focus on upcoming obstacles. If you find a downed tree that's obstructing traffic, contact your local police department through their non-emergency number so they can deal with it. Be safe!
25 Incredibly Bad Parking Jobs in Maine and Massachusetts
Top 10 Acceptable Myths About Driving in New England
More From WQCB Brewer Maine