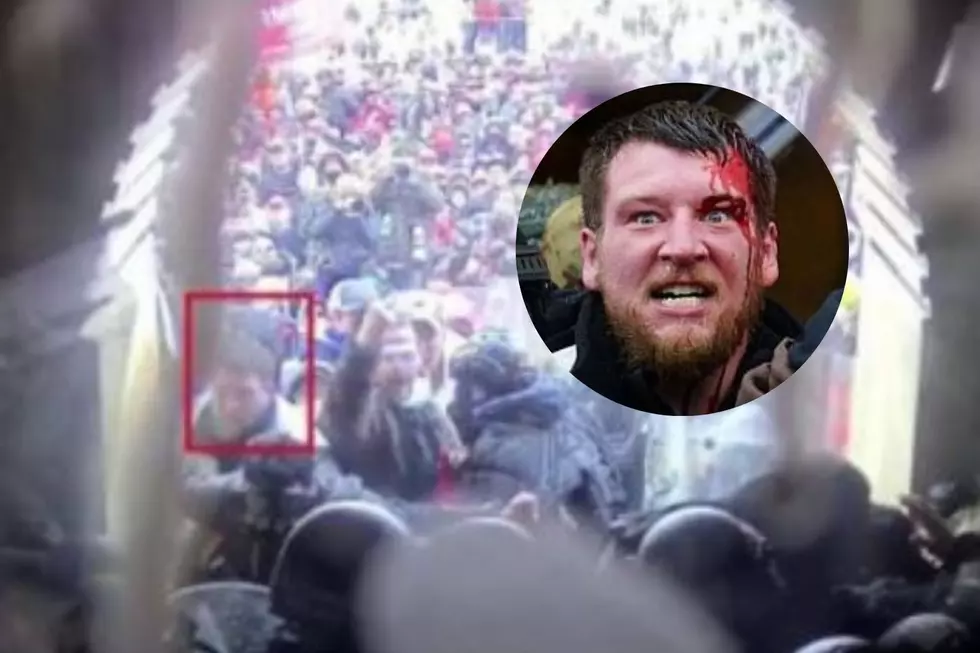 US Capitol Rioter From Maine is Found Guilty On 7 Felonies
Court Documents
A man from Lebanon, Maine who participated in the 2021 riots at the United States Capitol has been found guilty of 11 counts.
How Did Prosecutors Say He Was Involved in the Riot?
According to the United States Attorney's Office, District of Columbia, the government's evidence showed that Kyle Fitzsimons, 39, of Lebanon, Maine was illegally on the Capitol grounds on January 6h, 2021 and among the group of rioters that confronted law enforcement officers at the tunnel area of the Lower West Terrace of the Capitol building. While there, they say he committed five assaults against police over the span of about 5 minutes. Prosecutors said that Fitzsimons hurled his bow like a spear at the group of police officers, hitting a Metropolitan cop in the helmet. He's said to have grabbed another officer just before a different rioter sprayed the cop with a chemical agent. When another member of law enforcement tried to help the fallen officer, prosecutors say Fitzsimons pulled on his shield and shoulder strap, causing injuries to the sergeant's shoulder that then needed surgery. In addition, he charged the group of police twice, swinging his fists.
During that time, a joint session of the U.S. Congress was convened to count the electoral votes and declare Joe Biden the winner of the Presidential election.
What Was the Defense Team's Argument?
Pictures of Fitzsimons' bloodied face were widely distributed following the Capitol breach. Fitzsimons told authorities he had attended President Donald Trump's speech and then walked to where he had his car parked, putting on the white coat he uses in his job as a meat cutter and picking up a bow. Later, he would say that the fact that the bow he carried was unstrung showed his lack of aggression and that he didn't intend to participate in the violence, but got caught up in the wave of people storming the front of the building.
Which Charges Were Included in the Verdict?
A jury disagreed this week, finding him guilty of a total of eleven charges, including seven felonies:
1 count of obstruction of an official proceeding
4 counts of assaulting, resisting, or impeding law enforcement officers, including two involving a dangerous weapon or bodily injury
1 count of interfering with a law enforcement officer during a civil disorder
1 count of engaging in physical violence in a restricted building or grounds
He was also found guilty of four misdemeanor charges:
Entering and remaining in a restricted building or grounds
Disorderly and disruptive conduct in a restricted building or grounds
Disorderly conduct in a Capitol Building or grounds
Committing an act of violence in the Capitol Building or grounds.
Fitzsimons is to be sentenced in February of 2023, just over two years after his initial arrest. The felony charges carry a total statutory maximum of 91 years in prison
In the 20 months since the incident, more than 870 people have been arrested in nearly all 50 states for crimes related to the U.S. Capitol breach. The investigation is ongoing.
How Mainers can Avoid Warm-up Theft
There are several ways you can avoid falling victim to warm-up theft, which is when car thieves target unattended vehicles that have the engines running.
16 Stories from Maine that Turned Up in News Across the Country
Whether they were happy or historical events, sad or tragic, these 15 Maine stories grabbed the nation's attention.
More From WQCB Brewer Maine