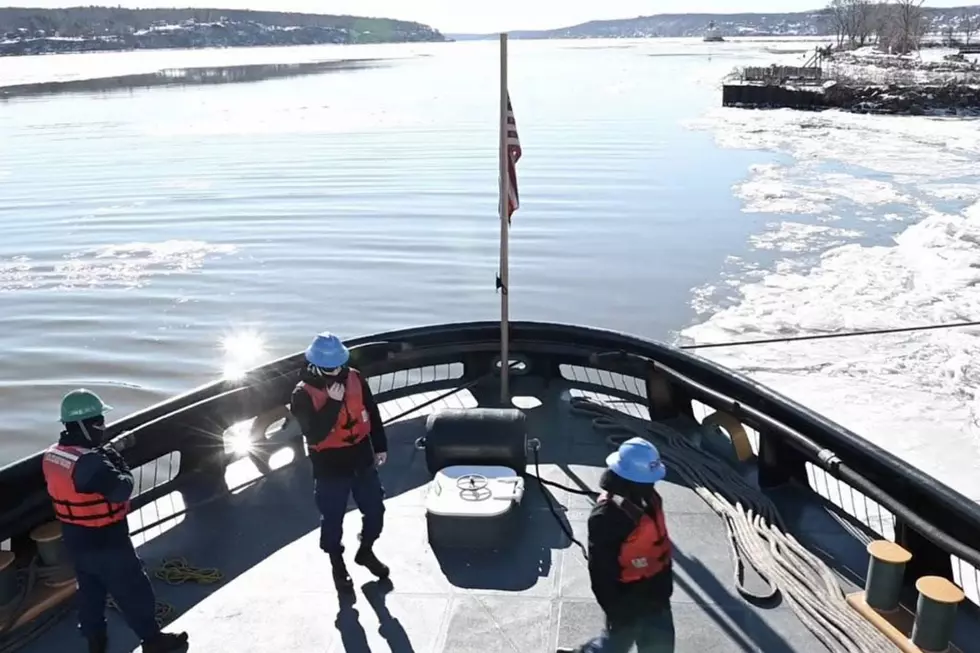 Watch The Coast Guard Break Up River Ice From Bangor Waterfront Tuesday
U.S. Coast Guard
The Coast Guard will be powering up the Penobscot in a continued effort to keep the river flowing. Folks can watch them work from the Bangor Waterfront.
The U.S. Coast Guard crews will be once again sailing up the Penobscot River. The cutter crews expect to be in Bangor by 11 Tuesday morning. According to a Facebook post by the City of Bangor, crews will work on the river into their afternoon. Those who wish to watch the action from the shore should note 11 a.m. is not an exact time, just an estimate as to when the cutters will be nearing the city.
Earlier this month, the 140-foot CGC Thunder Bay, 65-foot CGC Bridle, and 65-foot CGC Tackle took to the river to begin a season of ice breaking operations. Ice breaking efforts help prevent flooding during the spring thaw along the Kenduskeag Stream, and other areas along the Penobscot River.
According to a press release from the U.S. Coast Guard, "There is a lot of training, preparation and maintenance that goes on throughout the year to ensure we are ready to answer the call during what we call 'ice season'", said Chief Petty Officer Shae Currington, officer in charge of Coast Guard Cutter Shackle. "The crew takes pride in providing responsive action to the members of our communities, whether it be a fishing vessel beset by ice or flood relief along the Penobscot River."
In addition, the Coast Guard prioritizes search and rescue, ice rescue and assisting vessels beset by ice. On average, the Coast Guard assists over 100 vessels that become stuck in ice yearly.
These Are The Six Most Dangerous Jobs In Maine
Here's 10 Things That A Real Mainer Would Have
More From WQCB Brewer Maine