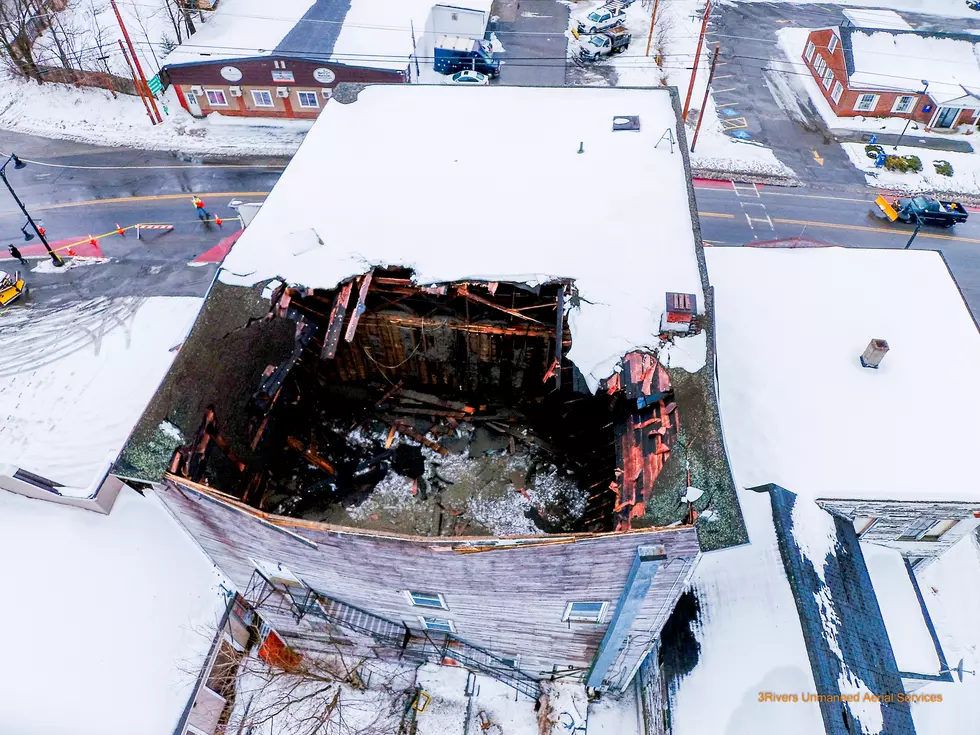 Roof Of Milo's Masonic Block Collapses, Miraculously Misses Family Inside
Courtesy: Blaine Chadwick, 3Rivers Unmanned Aerial Services
The back 1/3 of the roof of the old Masonic Block building in Milo collapsed this week, while folks were inside of the building! Thankfully, the 2 adults and 2 children that had been within the structure at the time, were in a different section of the Lodge when the roof gave way. No one was hurt during the ordeal, which happened Monday afternoon.
Milo Town Manager, Robert Canney, says it was well known that there had been a leak in roof of the 4 story historic structure for the better part of the last 10 years. He says the Town had owned the building, which is about a hundred years old, before it was sold to a private party. Canney says a woman from out of town named Elizabeth Gould bought the building a few years ago, and it was understood that she was trying to make some repairs to it. He says the building has spent many years in disrepair, "in a run down condition", and that was one of the reasons the structure was uninsured.
Despite the derelict conditions and the fact that there was no running water to the building, Canney says Gould and her partner had been living there with her three kids, while working on the property.
The Town Manager said he, the Milo Police chief and a member of the State Fire Marshal's office went down to the Masonic Block to asses the situation when they got the call. They then had members of the Fire Department come to block off the area around the building because they weren't sure it was done collapsing, and wanted to keep people away from the scene. Canney says the back wall of the building is bowing out at the moment, and there is concern that the structure may still collapse further during the next bad storm.
He says the town is waiting to hear what Gould wants to do with the property, but speculates there's a good chance that the entire thing will need to come down. The building sits between two other historic buildings, a one level building on one side and a two story building on the other. The one story is vacant and the two story building is used by the town for storage, so Canney says there's no direct threat to the community at the moment, if the building does fall further.
The Masonic Block is one of the last structures left from Milo's original downtown, as much of the area was decimated in a terrible fire back in 2008.
LOOK: Famous Historic Homes in Every State
LET'S GO: The most popular historic sites in America
More From WQCB Brewer Maine