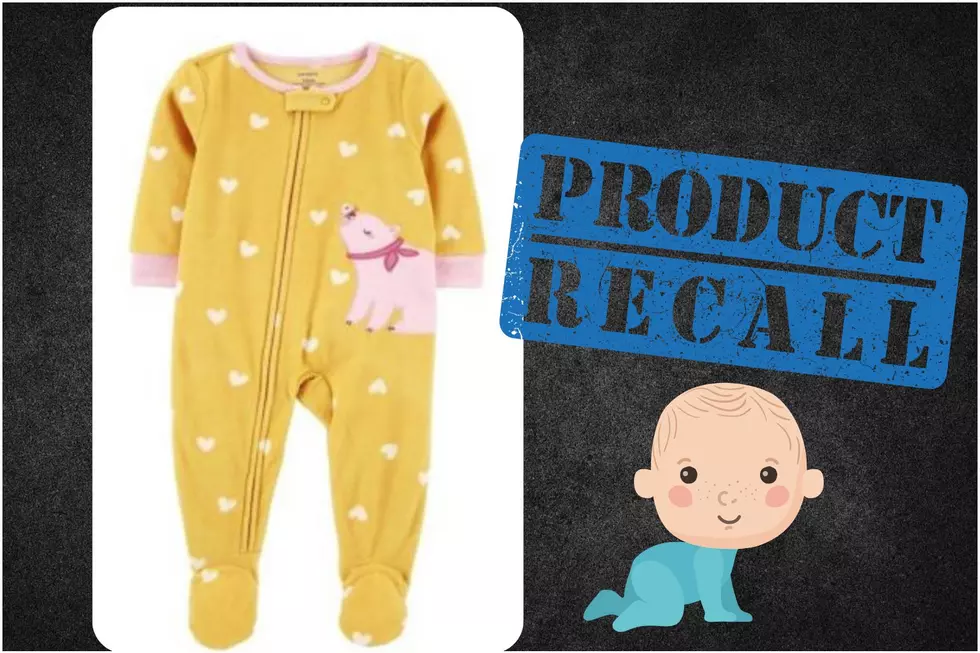 These Cute Fleece PJ's from Carter's Could Harm Your Baby
cpsc.gov
Carter's is recalling a pair of fleece, one-piece footed pajamas for infants that may contain harmful metal fragments.
What Do the Pajamas Look Like?
The biggest objective of any new parent is to keep their baby as safe and healthy as possible. So it's scary to think that the simple act of zipping them into a pair of fleece pajamas could cause them to be scratched or even punctured by metal. But that's what the folks at Carter's say could happen with one model of the garment.
A recall has been issued for an adorable one-piece pajama that is yellow, with an all-over heart design, and an animal graphic. Company officials say the garment may contain small pieces of metal wire that could pose a puncture and laceration hazard to young children. Carter's is working with the U.S. Consumer Product Safety Commission and Health Canada to recall these pajamas that were sold between July 2022 and September 2022.
How Do I Know if My Child's Pajamas Are Part of the Recall?
If you have a pair of these pajamas in your child's wardrobe, check the tags inside the garment to determine whether it's part of the recall. You're looking for the size, style number (which is in the upper left-hand corner of the tag inside the neck), and the UPC code (which is on the tag found inside the body of the pajamas.
Size 12M        Style Number 1O102410     UPC Code 195861313861
Size 18M        Style Number 1O102410     UPC Code 195861313878
Size 24M        Style Number 1O102410     UPC Code  195861313885
The affected clothes were sold through Carter's website, at Kohls, Macy's, Boscov's, and other stores nationwide.
What Do I Do If I Have a Recalled Garment?
Anyone who has one of these pieces of clothing should return it to the company for a full refund. To get a return label and return envelope for the pajamas, visit the Carter's Recall website. 
10 of the Weirdest Vehicles You Might See on the Highway
These vehicles are just so cool, and you could spot them in New England at any time.
12 Restaurants & Bars in Maine with Something Fun to Do While You Eat & Drink
I personally love a place that offers not only good food and drinks but something to do while I enjoy those things, especially when I'm with a group of friends. Here are a few places in Maine that offer activities while you sip and dine:
More From WQCB Brewer Maine