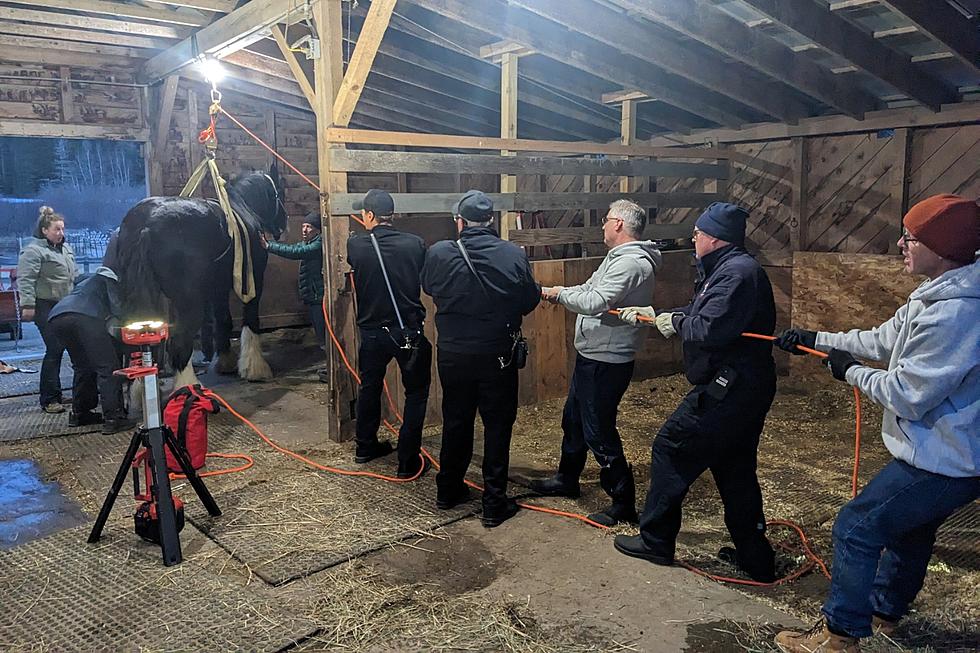 Sad Update on the Fallen Horse That Mainers United for to Help Get Back Up
Bar Harbor Fire Department via Facebook
In an unfortunate turn of events, the Bar Harbor horse that had fallen Monday and was helped pulled up by firefighters and members of the community sadly passed away.
Marc Jaffrey, who works at Wild Iris Farm, provided the update on Thursday, April 6, in the comments of a Bar Harbor Fire Department Facebook post about the initial fall and Maine teamwork.
Sandi Reed, who also shared a close bond with the horse, posted on her own Facebook page about the passing of Truman.
Reed said in Facebook post that she had worked with Truman for over 20 years. She noted that Truman was "a perfect example of a Shire horse in his confirmation, a tall (19.2hh) weighing in at 2,500 pounds with shiny black hair and fluffy white feather."
Truman was one of the horses at Wild Iris Farm, a family-owned farm in Bar Harbor that, according to its website, uses the Shire horses to farm, give carriage tours, and even for weddings.
While Jaffrey had initially posted a Facebook comment on Tuesday about Truman seemingly doing better, the following day the update highlighted a turn for the worse.
It wasn't until Thursday that the final sad update from Jaffrey came:
"Final update on Truman. He crossed over the rainbow bridge yesterday. He was ready and all his friends and farm family were there. We will deeply miss him. We just can't thank the local community and the Bar Harbor Fire Department for their help and support. Thank you from all of us at wild iris horse farm."
The kudos to the fire department and the multiple people that came together to try and help Truman is echoed right here. And while it's always wonderful to see Mainers uniting for a good cause, it's unfortunate that the ending was a sad one.
Rest easy, Truman.
The 10 Safest Places in Maine to Live Right Now
Breaking down stats relating to violent and property crime, here are the 10 places in Maine that are the safest to call home right now
according to SafeWise.com
.
25 Things That Mainers Have to Explain to People From Far Away
Mainers have to explain a lot to people from far away. Here is what they have to mention often.
More From WQCB Brewer Maine