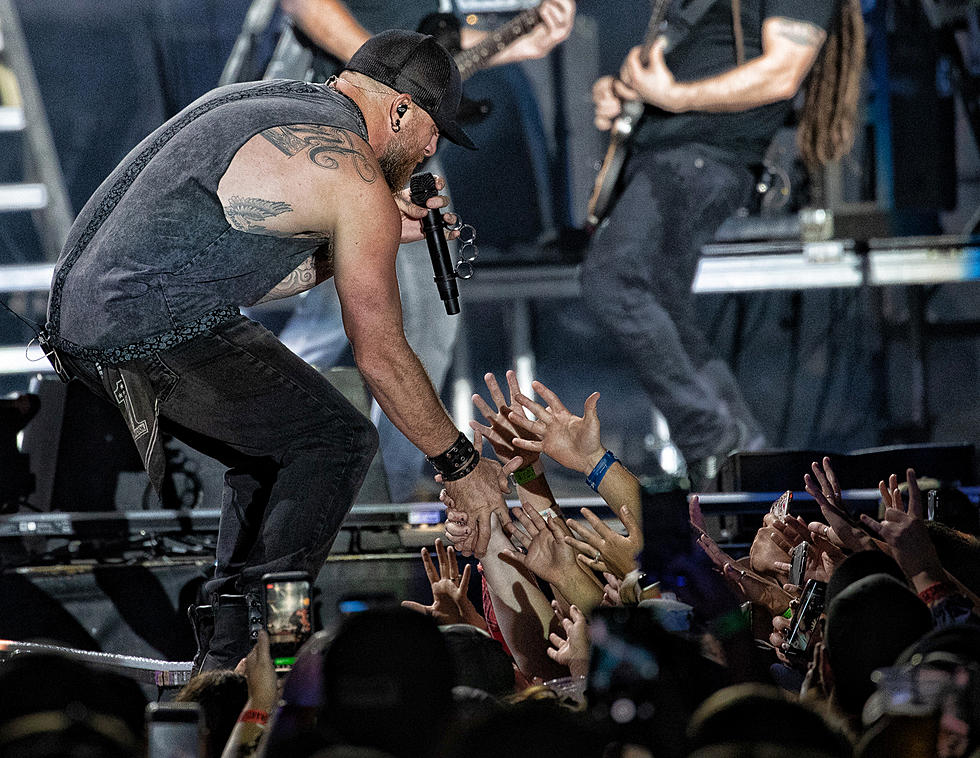 Brantley Gilbert Kicks Off His 'Not Like Us Tour' In Bangor
Monty J. Rand
Brantley Gilbert Performs In Bangor
Thursday night Brantley Gilbert kicked off his newest trek, the Not Like Us Tour, in Bangor.
Brantley Gilbert returned to Bangor with a high energy show at the Darling's Waterfront Pavilion. Opening the night were Lindsay Ell and Michael Ray.
The incredible guitar goddess Lindsay Ell started the night off with a fan favorite track, "Wildfire," from her 2017 debut album The Project. Continuing from the album was "Waiting On You," and "Mint." Mid-set, Ell debut a brand new song. So new, in fact, Bangor concert goers were the first folks to hear "Broken" live. It was back to her debut record material with "Castle." Ell would wrap up her set with an energetic performance of "Criminal."
Next up was Michael Ray. Ray kicked off his set with tunes including "Fan Girl," and "I'm Gonna Miss You" off his latest album Amos. The energy downshifted as he sang his breakup anthem, and new single, "Her World Or Mine." Backstage, Ray mentioned he had just wrapped up filming the music video for the single. It should be making its debut soon.
Cranking up the energy it was time to visit some classic country. Michael revved up the crowd with a flawless cover of "Red Dirt Road" by Brooks & Dunn. Ray would wrap up his set with his chart toppers "Get To You," "Think A Little Less," and "One That Got Away."
Now it was time for The BG. Brantley was firing on all cylinders from the second his mic went live.
Kicking his set off was "Kick It In The Sticks," Hell On Wheels," and "Country Must Be Country Wide." The hits continued to roll out with "The One That Like Me," "The Weekend," and "You Don't Know Her Like I Do," featuring a beautiful acoustic guitar solo intro. New music was on tap next. Off his next album Fire & Brimstone, Brantley introduced crowds to "Bad Boy."
Michael Ray would return to the stage to help Gilbert crank the crowd up again with "Small Town Throwdown." More new music was unleashed with the rockin' tune "Not Like Us." He would then launch into "My Kind Of Party." Long time Brantley fans probably remember his version of the song, which would later become Jason Aldean's first single. Lindsay Ell returned to the stage to perform their collaboration "What Happens In A Small Town." It was then time for another trip to early BG recordings with "Dirt Road Anthem."
With a crowd full of military members and first responders, Brantley tipped his cap to those who protect this country, leading into "One Hell Of An Amen." The crowd sang along as Brantley's lead guitarist played the "Star Spangled Banner."
The end of his set would rock Bangor with high energy performances of "Take It Outside," his collaboration with Five Finger Death Punch "Blue On Black," and "Read Me My Rights." When the crowd thought it was over, Brantley was back on stage for "Bottoms Up;" officially concluding with a massive burst of confetti.
More From WQCB Brewer Maine