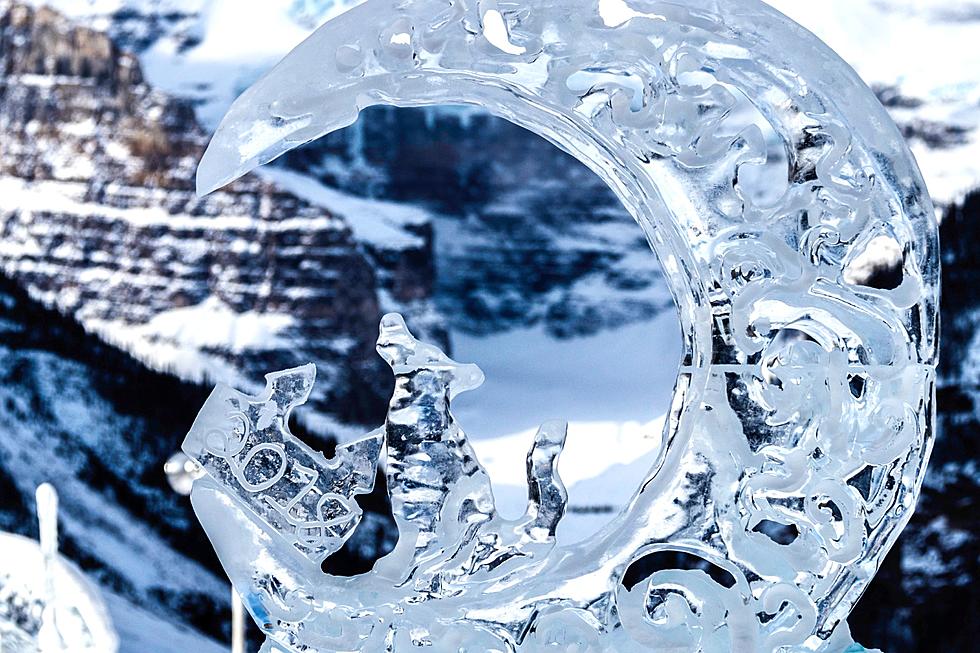 Here Are the Fun Events Planned for This Weekend's Belfast Ice Festival
Photo by John Bakator on Unsplash
Belfast is getting ready for a cool weekend embracing the winter season with ice sculpture creations, fine food, and a great community.
Hot off the heels of being named 'Maine's Hottest Town for 2021', this coastal community is turning the temperature down by hosting its 2nd Annual Ice Festival, a weekend of fun events with the highlight being the ice sculpture contest.
Belfast Ice Festival 2022
All weekend long, you can check out the ice sculptures throughout town.
Here's a Google Map that the Town of Belfast has up on the Belfast Ice Festival webpage that shows where all the sculptures will be in Downtown:
Here's a rundown of the weekend's special events scheduled daily to celebrate Belfast and winter:
Belfast Ice Festival for Friday, February 25
Friday evening's kick-off of the Belfast Ice Festival is the two-hour 'Tastes of Belfast' event. This event requires tickets and features the many foods made in Belfast by local eateries. The event starts at 6 PM and will be taking place under the Ice Tent on 47 Main Street, sampling appetizers featuring Penobscot McCrum products and Ducktrap River of Maine. You'll also get to have a few drinks and take in some live entertainment.
Get your presale tickets.
Belfast Ice Festival for Saturday, February 26
10 AM: Live Carving Demonstration – Salmon – Main and High Street
11 AM – 3 PM: State of Maine Ice Carving Championships* (Pre-registration Required).
11 AM – 2 PM: Popcorn and Hot Chocolate at the Belfast Chamber Office
Noon – 3 PM: Horse and Carriage Rides – Belfast Chamber Office
1 PM – 3 PM: Birdhouse making in front of the Chamber of Commerce (14 Main Street)
3 PM: Live Carving Demonstration – Owl – Mall on High Street
3 PM: The Colonial Theatre will be the backdrop of free viewing of the family-friendly movie Ice Age with limited capacity available. Masking will be required and doors open at 2:30, first-come-first-in situation.
5:30 PM – 8:30 PM: Take an evening show on the Magical Luminary Trail on the Belfast Rail Trail. Enjoy free cookies and hot chocolate at the footbridge. At 6 PM, a guided tour will leave the footbridge and wear some proper footwear, such as ice grips, snowshoes, or cross-country skis if the conditions allow!
Belfast Ice Festival for Sunday, February 27
This day is all about the kiddos! From 10 AM – 3 PM, there is a full schedule of children's activities in the Park on Main Street.
Want to volunteer? Sign up at the OurTownBelfast.org's Ice Festival webpage:
For ongoing discussion and to share this event with friends and family, follow the event on Facebook.
Here's a look at the first year of the Ice Festival event in Belfast last year that saw more rain than snow.
37 Essential Things To Do And See In Belfast
If you are visiting Belfast as a resident of Maine or as a tourist from out of state, this little town has a lot to offer those from near and far. With the help of
TripAdvisor.com's list of Belfast attractions
let's check out this comprehensive list of creative, historical, unique, and tasty finds that await you in Belfast, a bustling town on the coast of Maine.
Kids Enjoying Belfast Maine Boat Pirate Adventure
This fun treasure hunt with a pirate on the Back and Forth in Belfast Harbor made for great memories with my family
25 Food Festivals of Maine
Take a tour of Maine -- while taking in what makes Maine -- in the year-round festivals offered all over the state. From great Maine seafood and fish to delicious sweet treats to those odd and unusual Maine pride products, here are 25 festivals that Mainers put on to celebrate the great things of Maine with the community.
KEEP READING: Get answers to 51 of the most frequently asked weather questions...
More From WQCB Brewer Maine