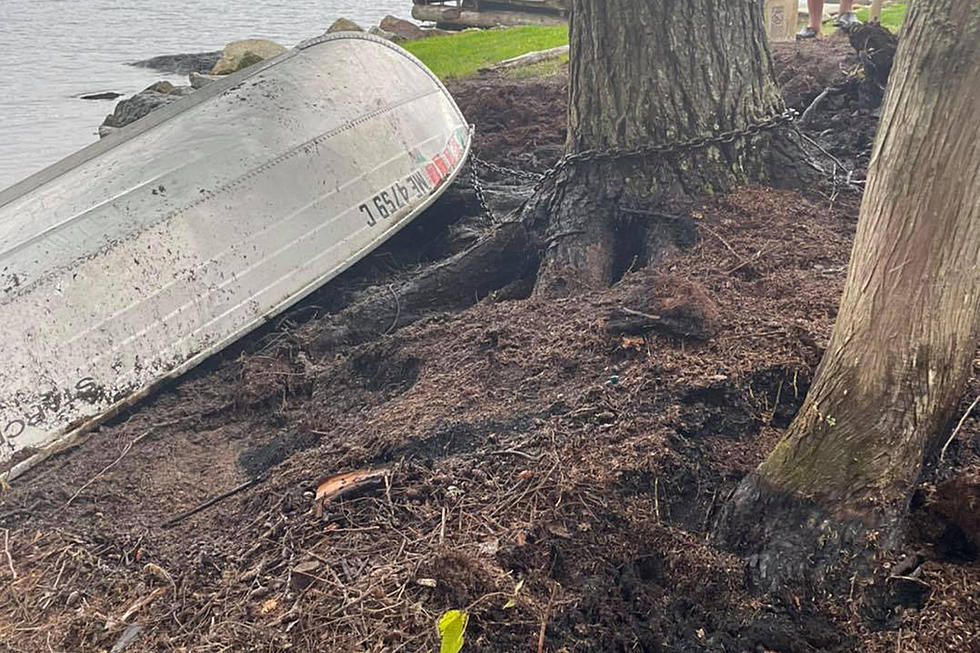 Why Did These Trees Stuck By Lightning In West Forks Show Little Damage?
West Forks Volunteer Fire Department via Facebook
It was wild out there yesterday!
Severe storms moved across western and central Maine yesterday blowing down trees and knocking out power to thousands. The National Weather Service issued a tornado warning for both Cumberland and Oxford counties at about 4:30 in the afternoon.  Shortly after that, a funnel cloud was indeed noticed in South Paris.
The thunderstorms pretty much lost their strength by the time they got to the Bangor area, but in the Somerset County town of West Forks, Mother Nature flexed her muscles big time.
A Facebook post from the West Forks Volunteer Fire Department shows trees that were struck by lightning outside of a camp on the Troutdale Road, which sparked a ground fire that was eventually put out by the Department along with the help of a few others.
Other than burn patches at the base of their trunks, the trees that were hit by lightning yesterday in West Forks showed very little above-ground damage, which confused those that discovered them.
We all know that lightning is one powerful force to be reckoned with.  A bolt of lightning can measure up to five miles in length while producing an electrical charge of 100 million volts, creating temperatures that can exceed 50,000 degrees Fahrenheit.
Just like skyscrapers in the big cities, here in Maine trees will be the first to be hit by lightning as they are normally the tallest objects in the area.  It's not uncommon to come across a tree in the woods that has been blown apart by a lightning strike.
Many trees are hit by lightning and don't show immediate damage, although the electrical charge from the strike has indeed made its way through the tree and then into the ground via the tree's root system where it peters out, which is exactly what happened in West Forks yesterday.
Unfortunately, trees like those struck in West Forks will more than likely decline and die over time, even though they don't show damage above ground.
Here Are 17 Things In Maine That Will Bite You
Here in Maine, there are plenty of critters that can take a bite out of you if they do desire.
Take A Look Inside The Least Expensive Home For Sale In Maine
Take a peek inside and out of this very slammin' and radical property, and if you find it to be totally off the hook, then hook up with the realtor for the lowdown.
More From WQCB Brewer Maine