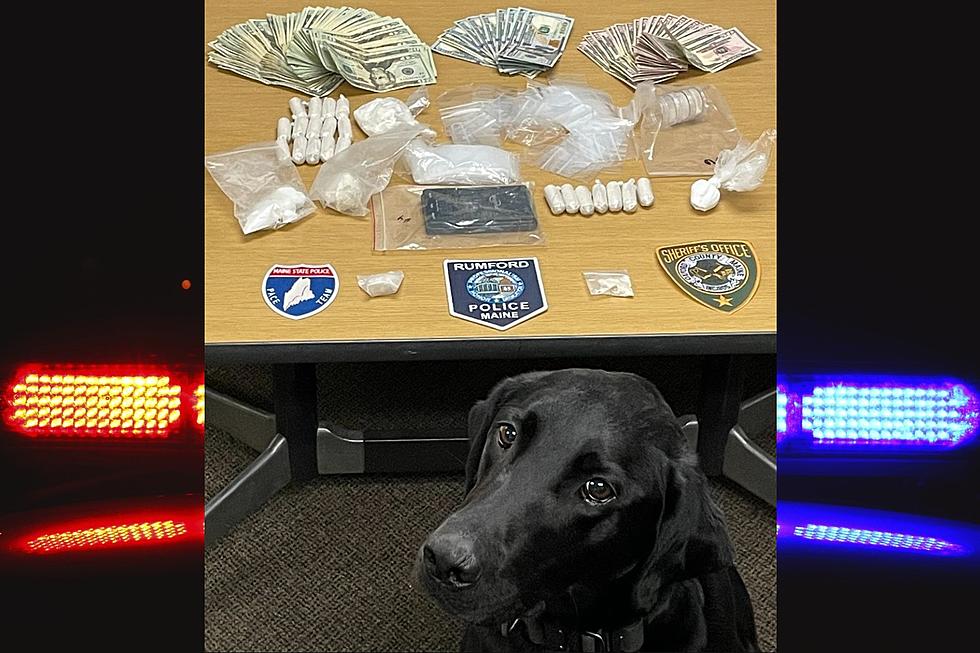 Rumford Man Arrested with Cocaine, Fentanyl, $4,000+ in Cash
Rumford Police Dept via Facebook/Alex_Schmidt, Getty Stock/ThinkStock
A Rumford man is facing drug charges after police seized more than 200 grams of illegal drugs and thousands of dollars in cash.
How Was He Caught?
The incident started just before 3:00 Thursday afternoon when Rumford Police noticed Jeffrey Hill, 33 of Rumford, driving on Lincoln Avenue. Knowing that Hill does not have a driver's license and is out on bail awaiting a trial on a criminal matter, Corporal Lawrence Winson stopped the vehicle and arrested Hill for operating without a license and violation of conditions of release. While taking him into custody, the officer allegedly found nearly 18 grams of suspected cocaine, that Hill was concealing, as well as nearly 6 grams of suspected fentanyl, and a wad of cash totaling $4,380. Hill was transported to the Rumford Police Department as the investigation continued.
At the time of the traffic stop, Hill was already the subject of an investigation into alleged drug trafficking activities. Officials with the Rumford Police and Oxford County  Sheriff's Office had reason to believe that Hill was selling drugs out of his 3rd-floor apartment at 323 Cumberland Street. The Rumford PD K9 Team, along with members of the Sheriff's Office and Maine State Police went to the address to execute a search warrant.
What Was Seized in the Drug Bust?
As a result of that warrant, officers seized a cache of bulk fentanyl and cocaine, packaging materials, digital scales, and suspected drug records. In all, nearly 230 grams of drugs were seized, including 21-fingers of fentanyl and nearly 92 grams of cocaine. Police say most of the fentanyl was in the form of 10-gram 'fingers' or 'sticks,' which is the way the drug is normally distributed wholesale before being broken down, packaged, and made ready for street sales.
How Much Would the Seized Drugs Be Worth On The Street?
Rumford Police Chief Tony Milligan called it a significant seizure of deadly fentanyl representing over 2,300 potentially fatal doses.
Depending on the tolerance of the user, a single-dose of this drug could be as small as 1/10th of a gram and the average going rate for each 1/10th gram dose in the region is $25, making the estimated value of the fentanyl as $59.000. The estimated street value of the cocaine is $11,500.
Jeffrey Hill is charged with aggravated trafficking in fentanyl, aggravated trafficking of cocaine, operating without a driver's license, and violation of conditions of release. If convicted, Hill could face between 5 and 30 years in prison for each of these felony crimes.
16 Stories from Maine that Turned Up in News Across the Country
Whether they were happy or historical events, sad or tragic, these 15 Maine stories grabbed the nation's attention.
Parents Should Familiarize Themselves with These Illegal Drugs
Knowledge is power, especially when it comes to recognizing and understanding when your child becomes involved with illegal drugs.
More From WQCB Brewer Maine