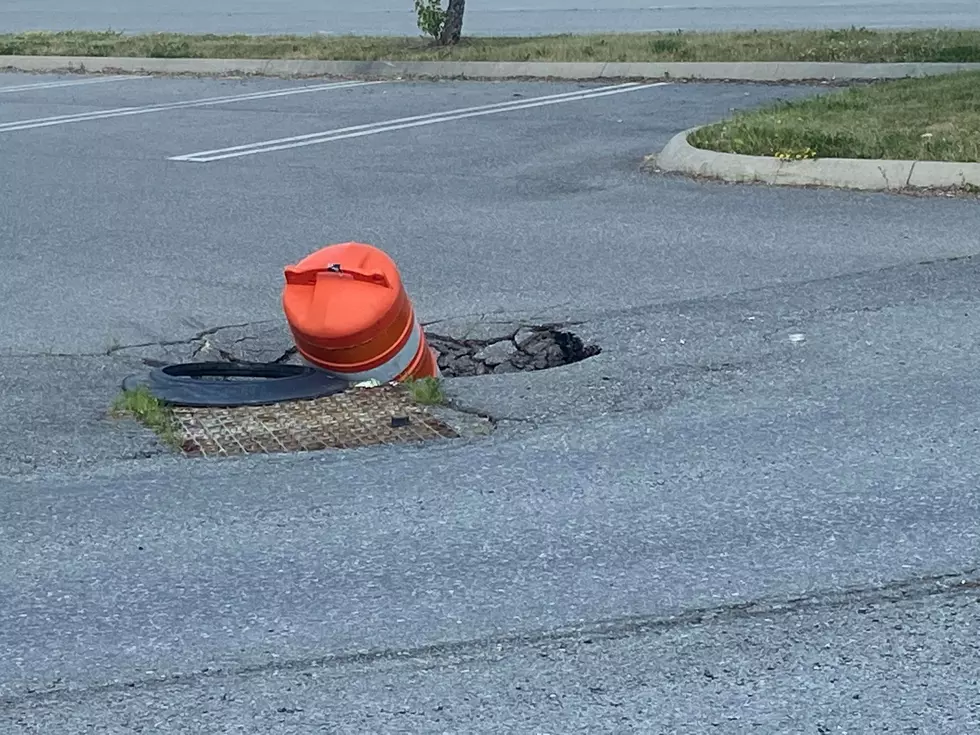 Is This Pothole at the Bangor Mall the Absolute Worst of All Time?
Photo Chris Popper
The poor Bangor Mall has seen some things over the years.
Here in the Bangor area, the mall seems like a place that Bangor forgot. There are still a few anchor businesses in there that do extremely well, but there's also a lot of empty store fronts, reminding us just how much in this world is purchased online, as opposed to going out to get it. Inside, they're making great strides all the time to make the mall a pretty decent place to do business.
But we all know that it's not really a decent place to park in or drive around. Over the winter, they had to physically block a section of road off, because it was just too darn rough to drive over. When spring rolled around, it looked like things were actually getting a bit better. Unless you head over to the JC Penney side lot right now...
There's a pothole that will literally swallow your car whole.
We live in Maine, so we've seen some pretty gnarly potholes in our time. But I can't remember off the top of my head, the last time I saw one that was concealing an entire traffic barrel. No, not a cone... A barrel. This thing has to be at least three feet deep. If your car ended up in this hole, your insurance premiums will definitely be going up.
It actually looks way more like a sinkhole than a pothole. Which would kinda make sense with that storm grate adjacent to the hole. But, was the barrel sitting in its ring at one point, and fell in the hole? Or was this barrel tossed in the hole on the way by? Hard to say, but it's pretty evident this is going to be a pretty major repair.
Again, the poor Bangor Mall... Maybe someday it will regain some amount of its former glory, but certainly not until this big old crevice is filled in.
WOULD YOU BE SCARED RIDING DOWN THESE MAINE ROADS?
Spooky Street Names in Maine
Maine is home to some horror movie sounding street names.
Northport, Maine Home For Sale Boasts Beautiful Views and Amenities in Prime Location
Views of Penobscot Bay, an in-ground heated pool, and minutes from a private beach and ski mountain are only part of the lure.
Cute Downeast Cottage with Amazing Location & Views
Looking for a Downeast Dream to become reality?
A cute cottage located on a spectacular piece of Maine's coast is on the market. Located in Jonesport, this amazing property features all the amenities and some amazing panoramic views.
More From WQCB Brewer Maine