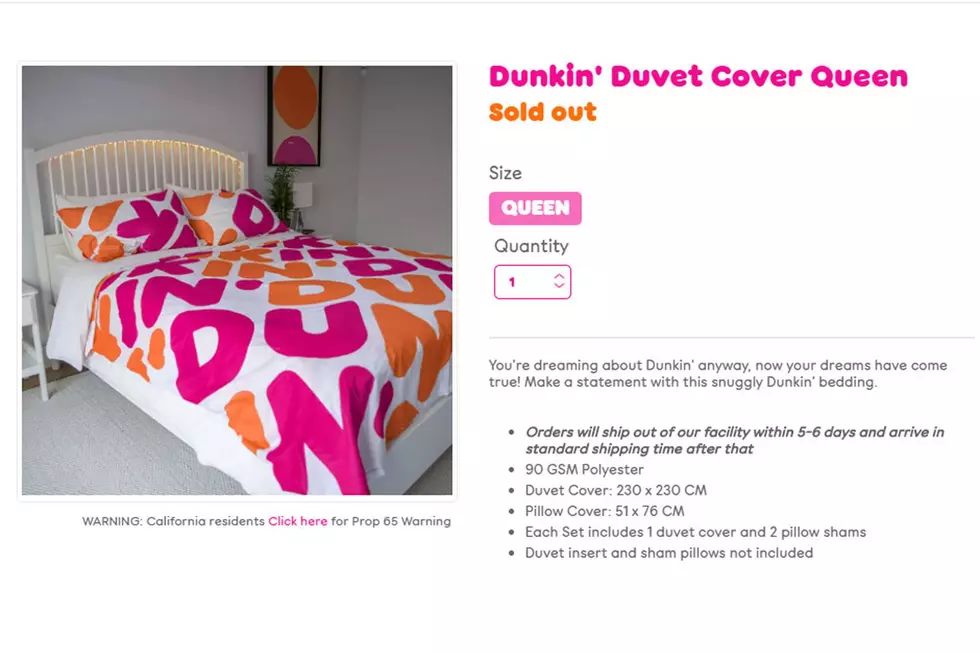 This Twitter Thread is a Must-read For Dunkin' Fans
ShopDunkin.com
The question: "you go home with someone for the first time. these are their sheets. what do u do?" The answers: hilarious. Fans of Dunkin' need to this check out.
Dunkin' fans. Want to take your love of caffeination to a new level? These are for you. Dunkin' has a line of merch that spans from cozy wear, to tandem bikes, and even bedding sets. The sets include one Dunkin' themed duvet cover and two pillow shams. Clearly people are all about these, since they're currently sold-out.
Inquiring minds want to know, how would you react to seeing this in someone's bedroom? This very question was asked on Twitter, and the answers have been internet gold. Twitter user @bettinamak has received more than 200 replies to her query.
Quality comments include the theme of a marriage proposal to that "someone," and as you can imagine, plenty of donut-inspired innuendo.
Here's some highlights:
Enter your number to get our free mobile app
CHECK THEM OUT: 100 years of Christmas toys, gifts and fads
More From WQCB Brewer Maine