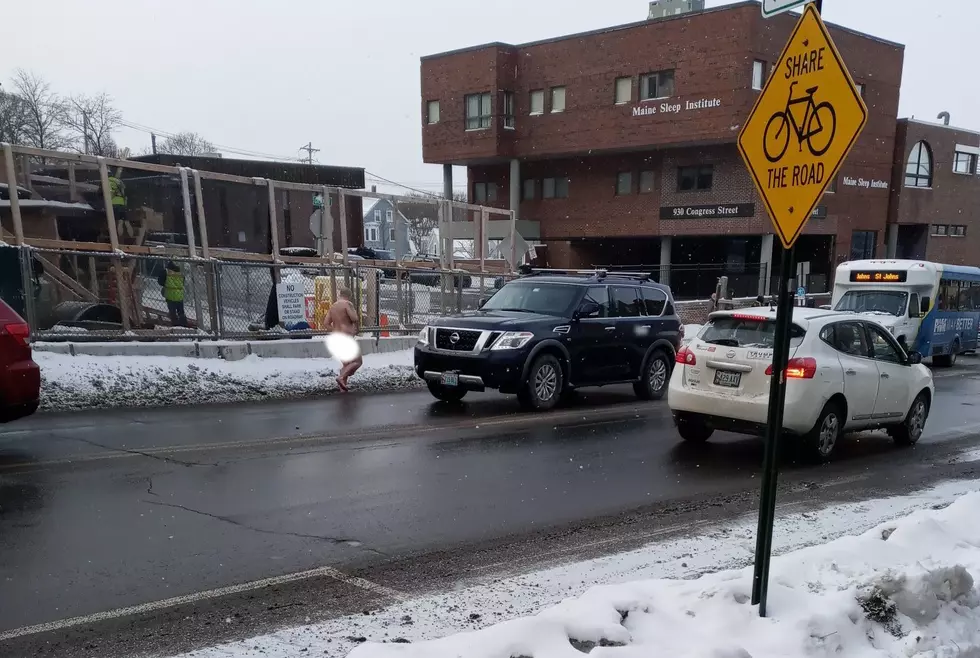 Someone In Portland Started Their Morning With A Nice Jog In The Nude
Twitter via Randy Gros
We've reached the point in Maine where the weight of everything is starting to pile up. The ongoing pandemic with no clear ending in sight as well as the lengthy winter season has made us all a little stir crazy. Undoubtedly, people are looking for ways to release that pent up energy and one of those ways was on full display this morning in Portland, whether people wanted to see it or not.
Shared on Twitter by Randy Gros, along Congress Street in Portland Tuesday morning was a gentleman who appears to have decided that he's had enough of the pandemic, enough of winter and enough of clothing as he casually jogged down the busy street during rush hour. While it is important to get some fresh air, there may be other ways to achieve this without going to extremes.
One savvy commenter on the Twitter post noticed that in the foreground of the photo was a sign seen on many streets throughout Portland that reminds drivers to share the road. Obviously, that is in terms of people on bicycles and not people who are naked jogging in the middle of winter. Then again, rules are rules and we're hopeful drivers took notice and shared the road. After all, this jogger was without shoes as well as clothes.
So yes, times are tough. Things feel a little bleak. That pent up energy is simmering. Is naked jogging in Maine's largest city a good idea? Probably not. But if that's what you need to do, we support you.
Here are some tips for self-care during the pandemic:
More From WQCB Brewer Maine