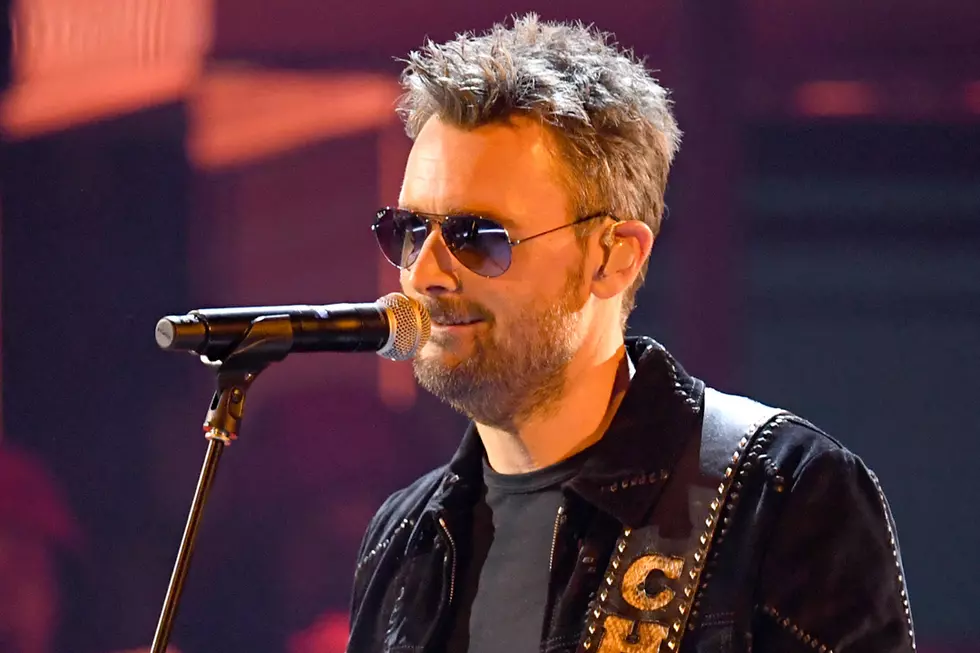 New Music Friday + More Country Music News
Kevin Winter, Getty Images
Eric Church's "Hell of a View" is a love song for rebels.
"This ain't for everybody / Toes hangin' off the ledge like we got nothin' to lose / Ain't always Heaven, baby / This livin' on the edge,, "You holdin' me holdin' you / It's a hell of a view."
"Hell of a View" is one of 28 songs Church and his band recorded over 28 days during a marathon session at an old restaurant in the mountains of North Carolina that they turned into a studio for the occasion. The process kept the singer and his crew up late; in fact, Church admits, they had to take a couple days off at one point because he'd stayed up for four straight days, unable to unwind and sleep.
Previously, the superstar has teased that his four weeks of recording yielded enough material for a double album, at least. He and his team are "still working on" final plans, but, he says, fans will get to hear the entire session "in some form."
and Hell of a View which was released this morning
Like the Texas-born Johnson, country icon McEntire was a rodeo rider before she turned her sights to country music. She says the song "really settled in my bones" (quote via CMT) when she heard it.
"[Hearing the song] took me to the '70s, when I realized that my rodeo career was going absolutely nowhere. And that I did have a God-given talent and I needed to be using it," shares McEntire, whose father and grandfather were champion steer ropers. "This [song] was kind of a reminder that it's going to be okay, that if you do leave rodeo for the music, you're going to be okay. I knew I was going to miss it. And I was mad because I love that life of rodeo. I'm a third-generation rodeo brat."
Another new song released this morning,
Maren Morris' new song "Better Than We Found It" calls for action: to take responsibility for affecting change in the world and leaving it better than it was when we arrived in it.
Morris calls "Better Than We Found It" a protest song, and says it "address[es] exactly how I feel right now."
"It's the most American thing to protest, and protest songs have been so embedded in American culture," Morris reflects. "I think the world right now is sort of in a perpetual mourning period, and I wanted to have a song that had weight but also had hope."
The anniversary of the Route 91 Harvest Festival was yesterday.
Jason Aldean was on stage when the shooting began, and yesterday he went on social media, and opened up about the pain of reliving the tragedy.
More From WQCB Brewer Maine