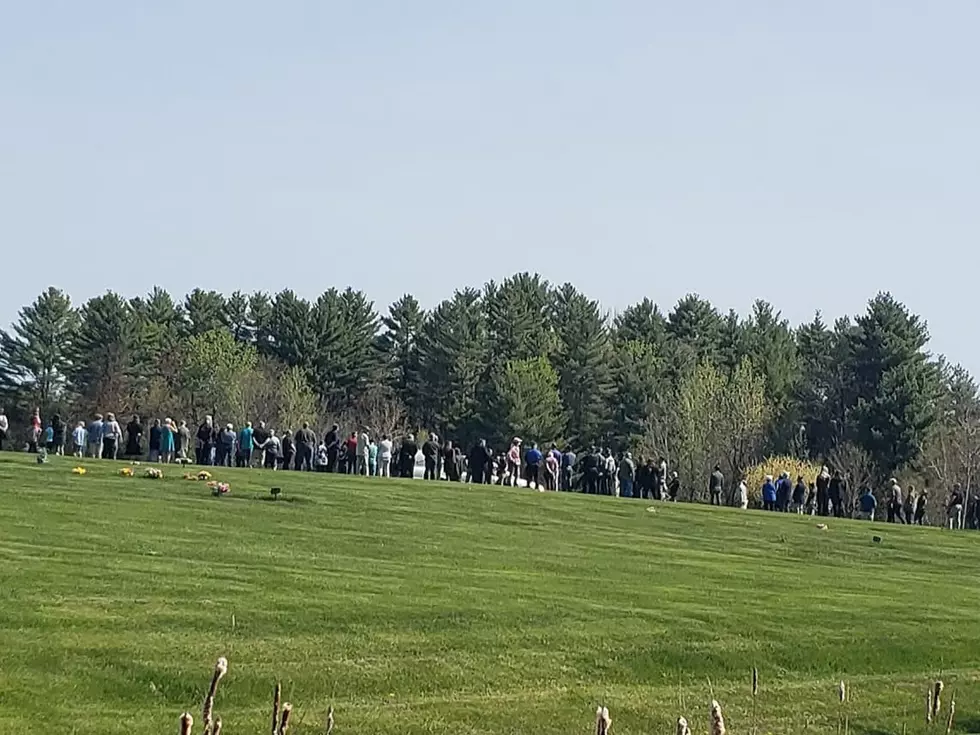 Hundreds Show Up To Honor Maine Veteran At Funeral After Post Goes Viral
Vet Funeral 1, Sarah Theriault
Earlier this week, we shared with you a story about the Maine Veteran's Project putting out the call for folks to attend the funeral of a Maine veteran who passed and was going to be buried alone in Augusta this week.
The initial post, shared by the group on their social media page said simply,
"...veteran being laid to rest May 12 at 1000 in Augusta. If you wish to pay your respects, please help honor this veteran."
Mr. Linwood Ray, who served in the United States Air Force from 1965 to 1974, was scheduled to be laid to rest, during graveside service with military honors rendered at Veterans Memorial Cemetery in Augusta at 10 AM Thursday morning.
It's safe to say, Mr. Ray was not buried alone, but thanks to that plea going viral, instead he was honored, as all veterans should be, by hundreds of Mainers who gathered to pay their respects.
Sarah Theriault from Norridgewock was one of the folks who saw the request for people to attend the funeral through a story on the news. She decided to take some time and go in support of Mr. Ray and was moved by the number of people she saw when she got there.
"I was surprised at how many people had attended. There were older men with canes and their military baseball caps, lots of motorcycle members with different military patches on their vests (too many to read them all), to regular people off the street who heard the request and went. I thought it was a beautiful turnout."
Folks from the Maine Veteran's Project took to their Facebook Page, once again, to share their thanks for the many Mainers who answered the call to attend.
"The power of community is an incredibly underrated force. 72 hours ago we read a post stating a Korean War era veteran would be laid to rest alone, with no family or friends to attend. Since sharing this post, it was shared 1,441 times and reached 73,486 people. Potentially 200+ Mainers attended this veterans funeral and honored his sacrifices for our freedom. Today and every day, I am so proud to be a Mainer and to be part of such an awesome community. Thank you to every individual that helped make this happen."
Mainers showed up today, when it counted, as they always do. It's situations like this that make me proud to live in this state.
Well done, Maine.
Every Classic Rock Artist Ever At The Old Bangor Auditorium
These classic rock artists and their history with Bangor go back to the early '70s. Check out everyone who played the old Bangor Auditorium.
More From WQCB Brewer Maine