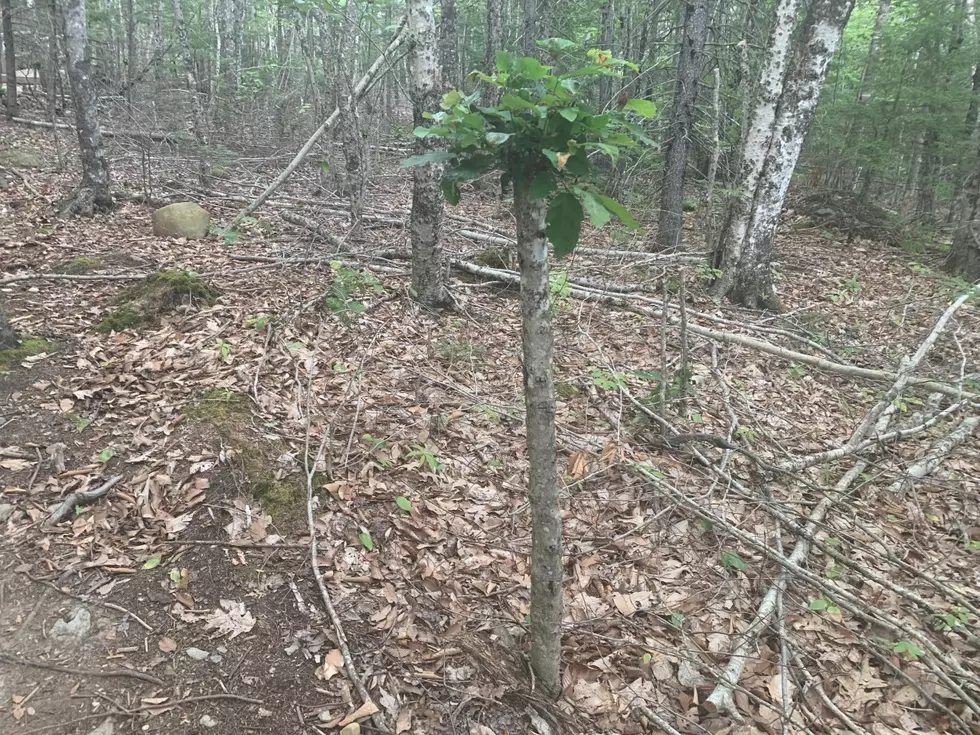 Have You Seen The Super Cool Dr. Seuss Trees in Orland?
Photo KStew
The Maine woods can be unexpectedly odd sometimes.
How many times have you been walking in the woods, maybe even behind your own house, and found something just completely unexpected? I remember when I was growing up, we used to wander about in the woods behind our school, and one day we found an old beat-up truck. Had to be from the '40s.
It made no sense for it to be where it was. It either died there and no one came back to get it, or someone dragged it out there to make it go away mafia style. Either way, a bit strange. I've seen all manner of photos on social media as well, showing the weird things they've found.
Sometimes the weird things are still alive, but being killed slowly.
If you go to the Great Pond Mountain Conservation Trust in Orland, you'll find the most charming little trees. They almost look like mini trees with a wig on top. There are no other branches, just a little tuft on top. But when you start reading the signs explaining what's going on, you realize all these trees are dying, hahaha.
As you can see in the photo, these trees have all been cropped to help control diseased beech trees. Killing the diseased trees in this manner eliminates the need to use any pesticides, and makes room for healthier trees to take hold. Not only is it pretty ingenious and great for the environment, but it also leaves these cool little stumps.
There are whole patches of these odd little buggers. Sure, these trees are pretty much taking their last trip round the sun, as they'll die off next year, but they're fun to look at. Plus, the area around them is gorgeous. Hiking trails, unreal views, and all just down the road in Orland. It beats waiting in line for Cadillac...
You're welcome to spend the night here if you're rich...
This Lavish AirBnb In Maine Will Cost You $950 Per Night
Peek inside one of the most expensive AirBnb rentals on a per night basis in Maine, a lavish oceanfront home near Bar Harbor.
Fall Meteor Showers That Will Light Up The Night Sky Over Maine
Fall is an active season for meteor showers. It's also the last few meteor showers you can view without freezing to the bone. Maine is a great place to see some of the best meteor showers of the year. It's not very hard to find dark areas away from light pollution to get a clear view of the night sky. Here's some fall meteor showers that will light up the night sky in the coming months.
A List of Maine's Longest Running Music Venues
Have you ever been to a show or concert that gave you memories to last a lifetime? Maine has produced some of the best shows, housed by the longest-running concert venues. Let's take a peak at the longest-running venues in Maine.
More From WQCB Brewer Maine