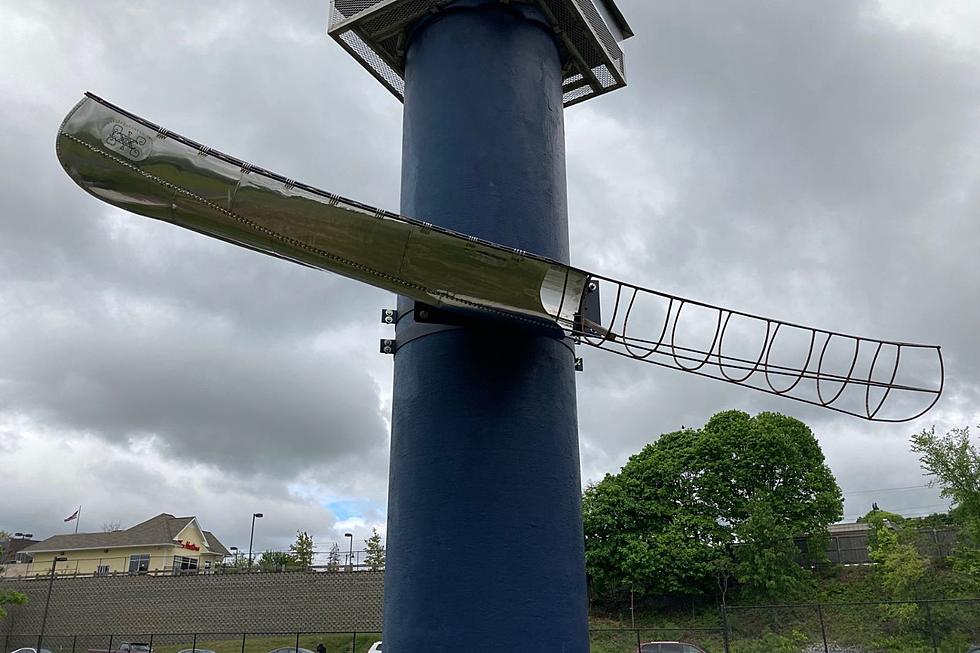 New Sculpture on Bangor Waterfront Ceremony June 2nd
Scott Miller
Walk along the Bangor waterfront recently? Not the busy part down by boat docks and the food trucks.
But down past the backstage area of Maine Savings Amphitheater.
Down where only the walkers or joggers go. Near the Tim Hortons on Main Street almost to Hollywood Casino.
Last weekend for the first time I saw a sculpture I'd never seen before.
I wondered is that new?
It indeed is.
It's called Living Water. It is by Mi'kmaq artist Steven Francis Hooke. And it is a six-foot Wabanaki-style canoe. Yes, it is affixed to the Davis Brook Stack.
Living Water is new enough that the installation ceremony hasn't taken place yet, but it will Friday, June 2 at 3:30 p.m. Everyone is invited and the attendees will hear from the sculptor and from government officials.
The City of Bangor's Commission on Cultural Development sought proposals from artists for art that would highlight the Penobscot River and planned all along to hang the selected proposal on the stack.
Living Water, artist Steven Francis Hooke's proposal and design was selected from a number of artists' submissions. The nose of the canoe is pointed upstream, which the artist said
Represents the future.
He also shared
That growing up in Bangor, the river meant an incredible amount to me, and it is an honor to be able to able to represent this significance with an art piece on these very shores.
The Davis Brook stack is part of the recently completed 3.8 million gallon sewage overflow tank project called the Davis Brook Combined Sewer Overflow Storage Tank project.
WOOF: These are the most popular dog breeds in America
More From WQCB Brewer Maine