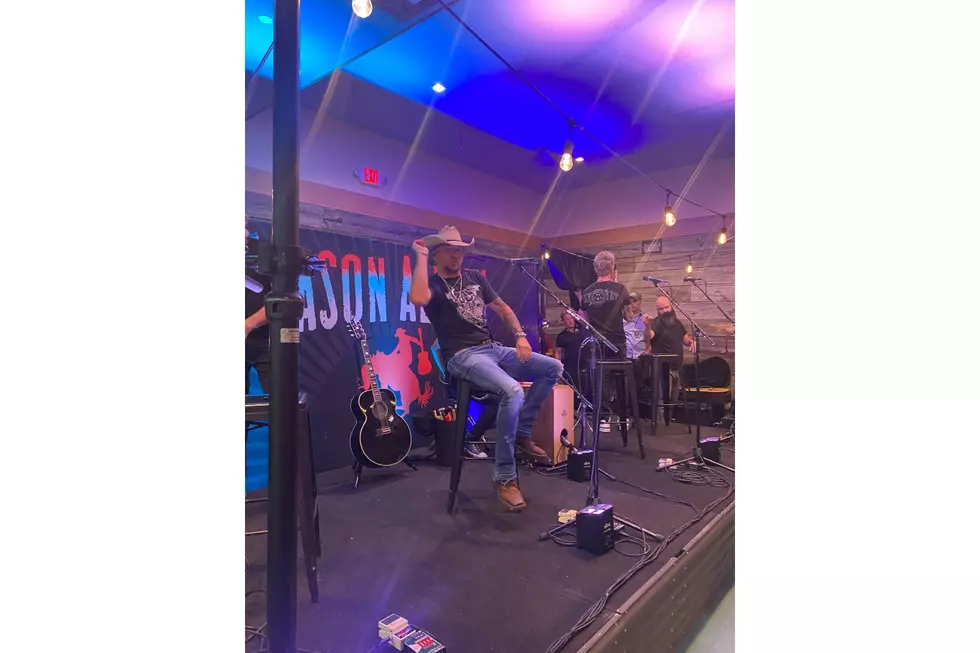 Backstage With Jason Aldean at Maine Savings Amphitheater
Falene Rollins
I know it's been less than a week since the last country concert at the Maine Savings Amphitheater.
But before any more time slips away, I want to share a story about the Jason Aldean concert from last Saturday.
We ran a contest on Q106.5 that wrapped up a few days before the concert that had a prize of tickets, and a grand prize of upgrades to the pit, and an acoustic pre-show backstage V.I.P experience.
The winner shared some photos that I want to share with you.
This is us. My daughter, Angelina (15 years old) and my husband, Carl
First when you hear contests like that on the radio, and you think ...
Ah, I'll never win.
Everyone says that. Somebody wins, so why not try?
Okay, look how close the winners were backstage to Jason Aldean and the warm-up acoustic performance before he hit the stage.
The winner of the contest was Falene Rollins. How is this for a winner? She went to the concert with her husband and daughter but gave the VIP backstage experience to her husband and daughter.
Google kindness, and I bet this fits the description.  May karma shine down on you Falene. You are a very special human being. Look how thrilled your daughter is.
Alright, let's head for the pit and get ready for the on-stage portion of the show.
Tracy Lawrence opened for Jason Aldean, because a Tracy Lawrence concert was the first ever concert Jason attended.
Wonder who is coming next summer? It won't be too many months from now that we are announcing the shows, giving away tickets before you can buy them, and scrambling for those special perks, like private acoustic warm-up mini-concerts before the concerts, to give to you, our listeners.
Hope you win.
See Inside Jason Aldean's Spectacular Florida Beach House
Jason Aldean
's beach house in Santa Rosa, Fla., sits right on the Gulf of Mexico.
Aldean paid $4.1 million for the new 5-bedroom, 5-bathroom, 4,452-square-foot beach house. The spectacular property affords the singer and his family the opportunity to walk out their back door and down a bridge to their own private beach, and the exterior of the villa features a courtyard with iron gates that includes gas lanterns, a swimming pool and a fountain.
The home's interior includes a downstairs with an open floorplan and oversized windows, chiseled stone floors, a gourmet kitchen, a bedroom and study and a fireplace, with coffered ceilings throughout. The upstairs of the home includes two separate master bedrooms that both overlook the Gulf, as well as two more bedrooms that each have their own attached bathrooms.
The stunning home is also set for whatever weather might blow in from the Gulf. Built in 2005, the house features all-impact windows and doors, as well as Geo-Thermal heating and cooling, cellulose insulation, foam ceiling and floor insulation and more.
Top 50 Jason Aldean Songs: His Greatest Hits + Best Deep Cuts
The best
Jason Aldean
songs are spread out among his 11 studio albums. Find singles and deep cuts from his self-titled debut album high on this list, right alongside more recent hits and duets from
Macon
and
Georgia
.
Taste of Country asked readers for input and did a deep dive into Aldeans' full catalog of songs to identify those worthy of this top songs list, and those that simply aren't. Spoiler alert: A few radio singles are missing, and several album tracks rank inside the Top 20. Sales and chart success helped us round out the Top 50. Do you agree with No. 1?
More From WQCB Brewer Maine