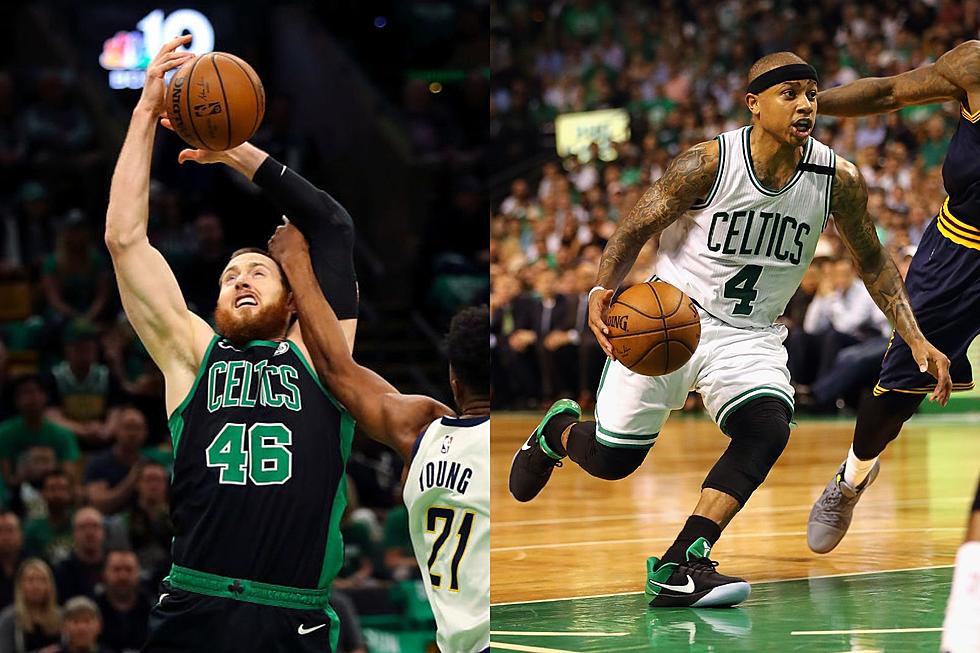 8 Former Boston Celtics That Deserve Another Chance This Season
Credit: Adam Glanzman / Elsa on Getty
With the upcoming NBA season just around the corner and the Boston Celtics focusing on building a championship-level team, we're eager to see who will join Jayson Tatum and Jaylen Brown on the court. This offseason has seen some significant moves, with the Celtics adding all-stars Kristaps Porzingis and Jrue Holiday via trades. However, there are still some former Celtics out there who could make a difference for us this season.
Javonte Green:
Javonte Green, a familiar face from the 2019 NBA Summer League who had proven himself and earned a spot on the Celtics roster for a season and a half before being traded to Chicago. With a few more years of experience under his belt, Green could provide valuable support coming off the bench.
Blake Griffin:
Blake Griffin, a six-time NBA All-Star and former NBA Slam Dunk Contest champion, was signed by the Celtics for depth in the frontcourt last season due to an injury to Robert Williams. Now that Williams is no longer with the team, bringing Griffin back could bolster the Celtics' lineup.
Aron Baynes:
Baynes is an experienced player and is familiar with the team from his time in Boston between 2017 and 2019. Having won an NBA Championship in 2014 with the San Antonio Spurs while supporting Tim Duncan, he's a seasoned veteran in the league. Baynes faced a significant spinal cord injury during the Tokyo Olympics, posing a threat to his career. Despite this, Baynes is still aiming to make a return to the NBA. Nevertheless, his experience suggests that adding him for big-man depth could be a valuable choice.
Juancho Hernangómez:
Hernangómez had a brief stint with the Celtics during the '21 - '22 season. If the team needs additional support behind Tatum and Brown in the "big wing area," reaching out to Hernangómez might be a smart move. In addition to his time as a professional basketball player, Hernangómez had a notable role in the 2022 Netflix basketball movie, "Hustle," sharing the screen with Adam Sandler.
Mfiondu Kabengele:
Although Kabengele may not seem like a flashy pick at first glance, recognizing the importance of continuity in the locker room is vital. He demonstrated outstanding performance for the Maine Celtics last season, making him a notable player. With his familiarity with the Celtics' locker room, he could prove to be a valuable asset for the upcoming season.
Noah Vonleh:
Vonleh, a local talent from Haverhill, Massachusetts, played for the Celtics last season, before being traded to the Spurs in January. Given the team's need for big-man depth, considering the New England native for a return could prove beneficial.
Kemba Walker:
Former UConn Husky and four-time NBA All-Star, Kemba Walker, might offer valuable scoring off the bench when it's needed. Despite his movement around the league, a return to the Celtics could reignite some of the old magic. We're not expecting him to be the Kemba Walker of old, but having him as a sparkplug for scoring while Jrue is resting up might be a nice addition.
Isaiah Thomas:
Okay, hear me out. Isaiah Thomas, a former MVP candidate and Boston fan favorite, has the potential to bring some nostalgia and inspiration to the team. Recognized for his leadership and scoring abilities, having him back, even in a different capacity, could uplift the Celtics. While 'fan favorites' don't necessarily win championships, the Boston crowd still cherishes Thomas for everything he did for us. Additionally, I miss Tommy Heinson calling him 'The Little Guy,' and while we won't ever get that again, it wouldn't be so bad to hear Brian Scalabrine continue the tradition.
Boston has made significant strides in their offseason acquisitions, but considering these former Celtics for another chance could add depth and experience crucial for a successful season. As the preseason approaches, we eagerly await news on the team's lineup and potential surprises from these familiar faces.
The 13 Most Hated Boston Celtics of All Time
Boston's most celebrated franchise has also produced a number of players New Englanders still despise.
Gallery Credit: Jon Rineman
10 Cities That Need An NBA Team
There have been rumors swirling for years that the NBA is looking to expand. The last time the league expanded, is when it added the Charlotte Bobcats back in 2004.
Now, as we often do every offseason, we're wondering where the NBA would add a team if it were to expand? Would it be a brand new market? Add an additional team to a large market? Or bring a team back to an old market?
Let's look at the most likely possibilities, and cities that deserve an NBA team!
Gallery Credit: Cort Freeman
More From WQCB Brewer Maine