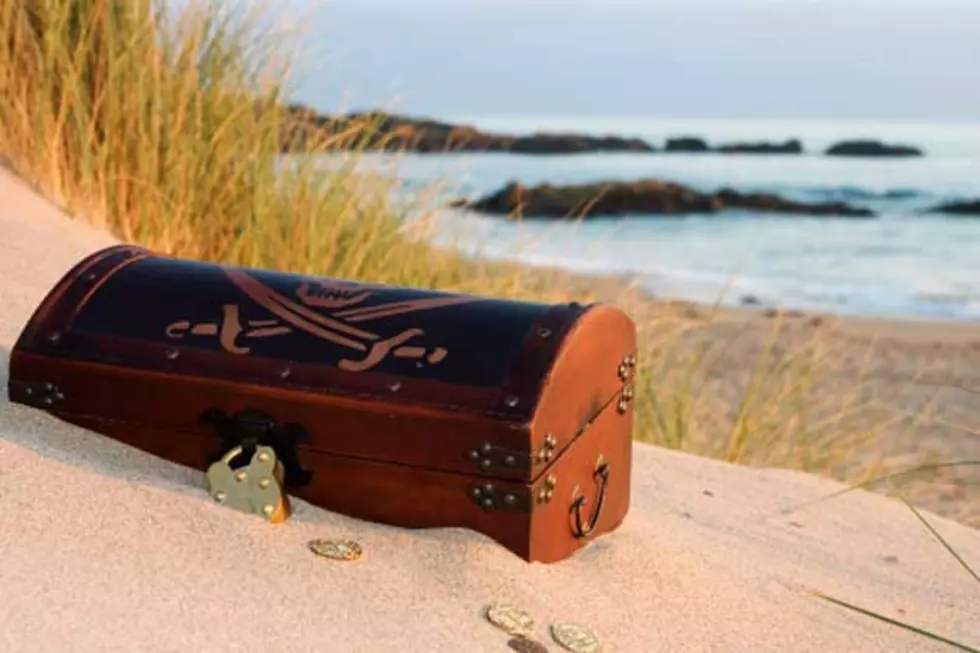 10 Spots to Search for Pirate Treasure in Maine
ThinkStock
It's no secret the Maine coast had its fair share of pirate activity in the past. What is secret is where they may have left their booty. Here are some places in Maine to search.
It's crazy to think there may be actual buried treasure just a few miles from home. Treasure that has been lost for hundreds of years, and most likely doubled in worth. While we can't confirm there is buried treasure in these places we can at least point you in a promising direction. Finding the treasure is up to you!
1.) Great Chebeague Island
Reports of a man who landed on the island with a pirate's treasure map in the mid 1800's led to the theory there were riches to be found. Be wary when searching for this treasure as legend says the cache is cursed. The story is the man with the map began digging in a secluded area of the island. When he was offered a hand with the digging by a curious islander he refused. This sent the islander into a rage and led him to curse the man with the maps' life. Within the year the man with the map was dead, and no treasure is known to have been found.
2.) Starboards Creek/ Brothers Island (Machias)
Multiple pirates reportedly used the Machias river as a hide out or hiding spot. One report is of Captain Harry Thompson and his buccaneer Starbird who the creek is named after. The location of the buried treasure is supposedly marked by carvings in nearby trees. Digs have been done in areas of interest but nothing has been reported found, yet.
A series of 9 islands on the border of Maine and New Hampshire were a very popular spot for pirate activity as they were underpopulated and what happened on the island, usually stayed on the island. As many as 20 pirates are rumored to have visited these islands between the 1600's and 1700's including Captain Kidd, Blackbeard and Quelch. Of the 5 islands belonging to Maine Duck, Smuttynose, and Malaga are the most likely to hold a treasure trove. In fact Smuttynose Island is one of the places in Maine treasure has actually been found already!
4.) Jewell Island
Located just a short boat ride from Portland this island is most well known as the hiding spot of a large fortune hidden by Captain Kidd. This is also one of the only places any rices have actually been found. A wooden chest was found in the 1850's, but the owner of the chest was and is unknown. What this Captain Kidd's chest or does his still remain buried on the island?
5.) Machias River
The story behind the lost treasure on the Machias River is one with more facts than the average legendary story adding to its credibility. The story is of pirates 'Black' Sam Bellamy and Paulsgrave Williams who after years of ship salvaging and robberies decided to build a log fortress not far from the mouth of the Machias River. It was here they hid the lot of their loot before venturing out on their ship for more. As the story goes, once filling their secret storage space with enough items of value and more the men agreed they had enough to retire from the pirate life. However, one last looting was too much to pass up for the two and they set out for their final voyage, never to return. There have been no reports of their treasure being found, and there is little to no trace left of the pirate fortress on the Machias.
Around 1900 two men arrived on the island. They had come from New York with a questionable treasure map. The two had also brought with them a deep earth auger with which they drilled down 30 feet in one spot. It was at 30 feet they hit something wood, and it appeared metal and gold! After hiring a team to excavate the area and the wooden object it was found to just be a wooden plank with copper spikes. No treasure has been found since, and the mystery of how that plank got down there or why still remains.
7.) Penobscot Bay
It's hard to believe the bottom of the Penobscot River is a graveyard for ships, cannons, and other artifacts dating back to the 1700's. There is also the lost safe of the ship carrying passengers, crew and circus animals that went down near North Haven in 1836. But the treasures in Penobscot Bay belonging to pirates would most likely be found on Isle Au Haut, Deer Isle, and Hog Island. These three places are rumored to hold treasures from pirate Dixie Bull who turned to piracy after an incident in nearby Castine.
8.) Mount Desert Island
Almost all of the coves on the coast of MDI have some sort of pirate history. The most notorious is mentioned in the book 'Ghosts of Acadia' by Marcus Librizzi who tells of phantoms still guarding the buried treasure on Spook Hill in Goose Cove. The story says they travel an unused road from the beach to the top of the hill, shadowless spirits carrying lanterns, possibly on their way to bury their treasure.

9.) Darmariscove Island/ Cushing Island
The pirate who was most active in Maine was Dixie Bull in the 1600's and it is his treasure rumored to be hidden on these islands. Damariscove Island near Boothbay and Cushing Island near Portland have been searched multiple times using promising leads, but nothing was found. No one actually knows what happened to Dixie Bull, or his riches.
10.) 10 Other Islands Rumored to Have Hidden Treasure
Orrs Island, Squirrel Island, Monhegan Island, Hollowell Island, Oak Island, Baily Island, Twobush Island, Pittston Island, Deer Isle, and Isle Au Haut. The pirates who may have buried their treasure here were Dixie Bull, Blackbeard (Edward Teach), 'Black' Sam Bellamy, Jack Quelch, William Kidd, Ned Low and some unknown pirates as well.
Now that we have shared this information with you, if you do find any of these hidden treasure troves you have to share with us!
Remember not to trespass or dig on other people's property!
More From WQCB Brewer Maine