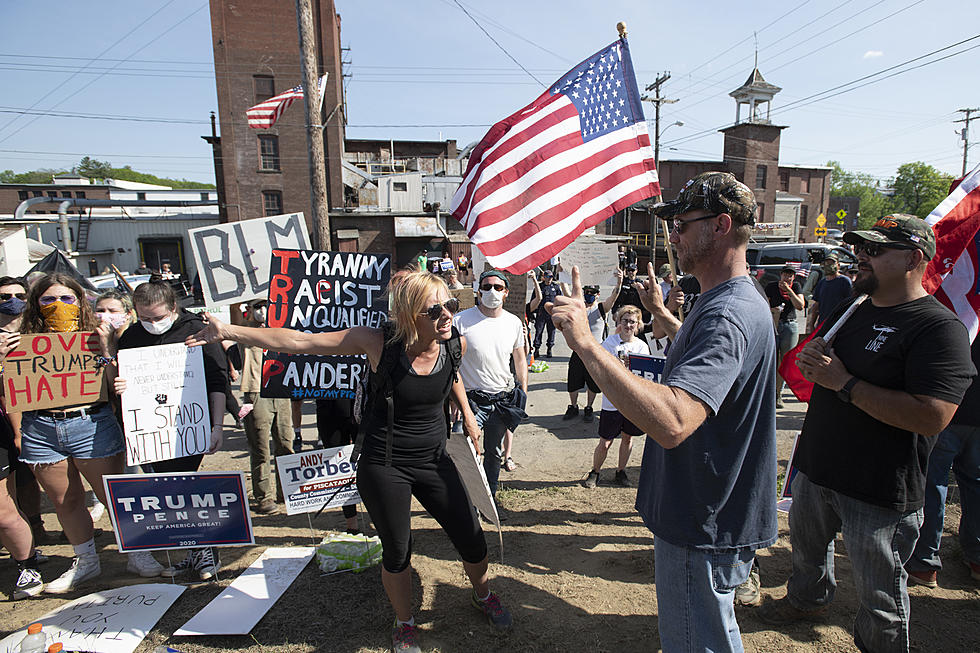 President Trump's Visit To Maine Draws Protesters, Supporters
Kevin Bennett
President Donald Trump visited two Maine locations on Friday.
In Guilford, where Trump supporters turned out in big numbers, the president visited with workers at Puritan Medical Products, which manufactures swabs used in COVID-19 testing. Puritan recently was awarded $75.5 million in federal money to expand its manufacturing capacity at its Pittsfield location.
Trump landed in Maine at about 1:50 p.m. at Bangor International Airport, near which was held a rally for racial equality in the wake of the death of George Floyd, a black man, at the hands of a white police officer in Minneapolis.
The president's visit comes amid widespread unrest over the May 25 death, captured on video. The officer accused of killing Floyd faces charges including second-degree murder. Three other officers involved in the death have been charged with aiding and abetting the crime.
Upon landing in Bangor, Trump was greeted by former Maine Gov. Paul LePage. Trump then participated in a commercial fishermen's forum.
The presidential visit also came amid push-back form Maine Gov. Janet Mills, who expressed concerns about security and asked him to "check his inflammatory rhetoric at the door."
Trump wasted no time taking jabs at Mills. At his Bangor stop, Trump said he was "not a fan," and criticized Mills' handling of the state's economic reopening amid the coronavirus pandemic.
Mills released a statement after the president's visit.
"I have spent the better part of my career listening to loud men talk tough to disguise their weakness. That's what I heard today," Mills said. "I don't care what the President says about me. I care what he does for Maine people. And that's not very much."
Before heading to Maine, Trump addressed the media to talk about the release of better-than-expected jobs report for May, showing the country added about 2.5 million jobs.
Trump last visited the state during the 2016 campaign.
President Donald Trump Visits Maine
Enter your number to get our free mobile app
More From WQCB Brewer Maine