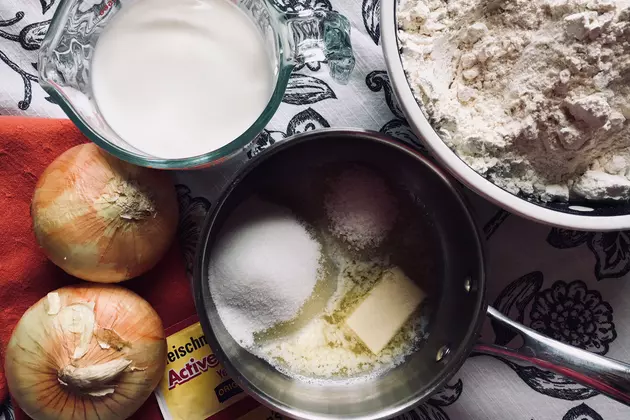 Modern Homesteading: Making Momma's Onion Bread
Lulu
Home: It's that place where you kick back, get comfortable, or just let loose. What is that certain something that makes you feel at home? Is it the security, the pride of ownership, or is it as simple as a comforting feeling?
For me, nothing says home more than the smell of fresh baked bread. My memories of home are of my mom baking. She was always baking cakes, cookies, sweet breads, and (my all time favorite) bread fresh out of the oven -- onion bread to be specific. Yes, onion bread. I've never come across it anywhere else but at home.
Now, I make my own fresh bread, all kinds like cinnamon swirl, oatmeal buttermilk, and even fresh pita, but onion bread always brings me back home no matter where I am.
Hello! My name is Lu and along with my main-squeeze-lover Don, together we are carving out our future, working full time, renovating our home, and raising our three kids. We are a blended family trying to create that feeling of home for all of us. Here, I'll share our accomplishments, DIY projects, recipes, and tips as we navigate this crazy roller-coaster called life.
Today I'm sharing my mom's onion bread recipe. This recipe was passed down from my grandmother who was a French Canadian and mother of 11 kids (That's not a typo), to my mom, mother to six kids, and now me, mother of one and step-monster to two teenagers. Maybe one day they'll make onion bread, too.
Momma's Onion Bread (2 loaves)
Ingredients: 2 cups milk, 6 tbsp sugar, 2 tbsp salt, 3 tbsp butter, 3 pkg yeast, 3/4 cup lukewarm water, 2 medium onions, 8 cups flour
Equipment: one candle, 2 large loaf pans
Scald milk w/ith sugar, salt and butter
Proof yeast in 3/4 cup warm water
Light candle before you chop onions to help burn off the fumes
Chop onions (about 2 cups)
Mix in flour 1 cup at a time until dough comes together
Change attachment to dough hook and continue adding flour until dough is well combined and a dough ball forms. OR (My mixer can only mix in up to 7 cups, so I finish by hand kneading)
Turn out dough and finish kneading in the last cup of flour
Allow to rise for 2 hours or until doubled in size (This recipe will make 2 large loaves)
Punch down and divide dough, place into prepared (greased and floured) bread pans
Here, I made 2 small and one large loaf
Cover and allow to rise until doubled in size, about an hour
Preheat oven to 375 degrees for glass or 350 degrees for dark or non-stick pans
Bake for 40 to 50 minutes until nicely browned and sounds hollow when tapped
Slice using a sharp bread knife (careful not to squish.) Enjoy hot out of the oven, or toasted for breakfast or sandwiches.
I hope you try our family recipe, and share what makes you feel at home.
More From WQCB Brewer Maine