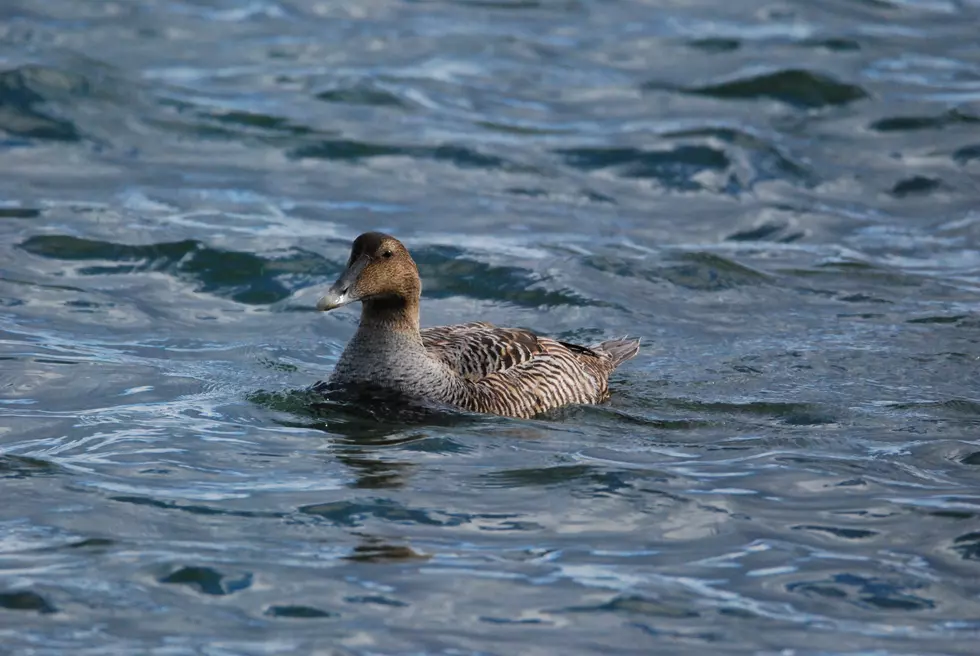 Due to the toll avian influenza has taken on nesting populations in Canada, Maine waterfowl hunters are being asked to avoid harvesting female and immature eider sea ducks.
The Maine Department of Inland Fisheries and Wildlife is asking hunters to avoid the taking of immature and female eider sea ducks. Voluntary compliance with the request from wildlife officials comes after Highly Pathogenic Avian Influenza killed many nesting female eiders in the St Lawrence waterway in Canada. According to IFW, "an estimated 5-15% of nesting eider females died this year, negatively impacting the eider population, possibly for several years."
Female and immature eider ducks are relatively easy to distinguish between males. In the photo above, notice the white and black plumage of the males. The females eiders are brown in color. Juvenile eiders are also brown in color.
IFW says, "Due to their small clutch size, few eider ducklings are hatched each year and survival of those birds are low due to factors such as gull predation and the challenges of our ocean waters. Loss to Avian Influenza compounds those problems."
Maine's migratory bird laws list eider at a daily bag limit of 3, only one can be a hen.
15 Must-Have Items For Ice Fishing Season In Maine
Ice fishing is an excellent way to embrace the cold winter months in Maine. It will get you outdoors for some fresh air, it's family friendly, and a successful day could yield a tasty dinner. If you're new to the sport, we put together a list of gear you'll need for a fun, comfortable, and successful day on the ice. Some of these items are more essential than others. Some gear may not be essential at all, depending on how you plan to fish. Again, the items we listed are geared towards those who are new to ice fishing.
Before we get to the list, remember to dress appropriately for the cold weather. We didn't put warm outerwear on the list, but it's definitely a must-have. Dressing in layers is important to ensure you're warm enough throughout the day on the ice. If you start getting too warm, you can simply take a layer off. Hand warmers are also worth packing.
More From WQCB Brewer Maine