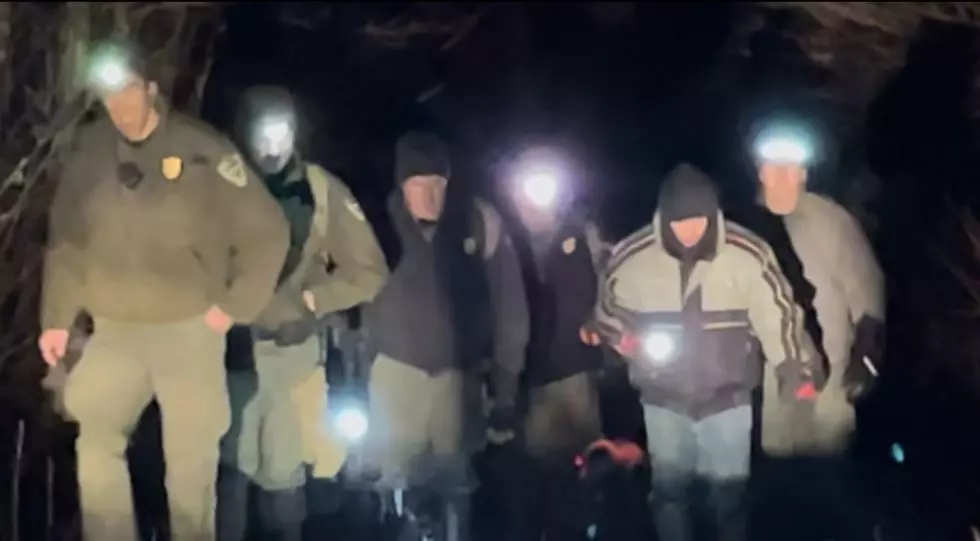 Maine Search Team Rescues Hypothermic Man who Fell in a Bog in the Woods
Maine Department of Inland Fisheries & Wildlife
A missing 78-year-old man from Cutler who fell through ice in a bog, became hypothermic, and got lost in the woods was rescued by the Maine Wardens, Maine Forest Rangers, K-9 Team and a Deputy with the Washington County Sheriff's Office.
Missing in the Woods during Storm
Mark Latti, Communications Director with the Maine Department of Inland Fisheries & Wildlife said Pete Taylor left his home around 7 am Monday morning on his ATV to go look for moose antlers in the area of Cocoa Mountain Road.
Taylor told his family he would be back at noon, but did not return. The family searched for him and found his ATV around 4 pm. Heavy sleet was coming down and they contacted the Maine Warden Service.
Rescue Team Included K-9
Members of the Warden Service and a Deputy arrived on the scene at 4:30 pm. A K-9 team with Alan Curtis and Grizz also joined the search. As the weather worsened with sleet and freezing rain, Warden Scott Osgood, Warden Matt Tenan, Forest Rangers Jeff Currier and Aaron Currier, and Washington County Sheriff Deputy Toni Bridges searched the area where the ATV was found.
Wardens made voice contact with Taylor around 8 pm and located him by following his voice. K-9 Grizz led the way, said Latti.
Hypothermic and Disoriented
Latti said Taylor told the Wardens that "he was searching for moose sheds in an area, and fell through the ice into a bog. He was able to get out of the bog, but the water had soaked his clothes, and he began to get disoriented as hypothermia set in with the freezing weather and sleet. He told wardens that he was going to go to sleep, and wasn't sure if he would wake up, but when he heard Game Warden Matt Tenan's siren as he arrived, he decided to stay awake and listen for the game wardens."
The rescue crew started a fire and warmed Taylor up. Latti said, "besides being hypothermic, Taylor was in good shape." Taylor walked out of the woods where emergency medical crews were waiting with an ambulance. He was examined and released to his family.
RANKED: Here Are the 63 Smartest Dog Breeds
Does your loyal pup's breed make the list? Read on to see if you'll be bragging to the neighbors about your dog's intellectual prowess the next time you take your fur baby out for a walk. Don't worry: Even if your dog's breed doesn't land on the list, that doesn't mean he's not a good boy--some traits simply can't be measured.
States with the most registered hunters
Stacker
analyzed data from the U.S. Fish and Wildlife Service to determine which states have the most registered hunters. Read on to see how your state ranks on Stacker's list.
More From WQCB Brewer Maine