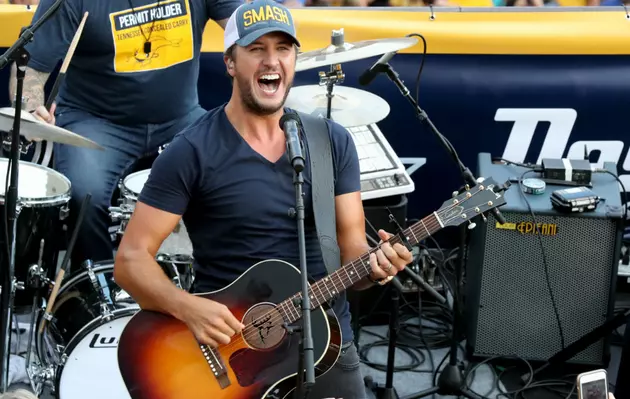 Everything We Know About Luke Bryan's New Album, 'What Makes You Country'
Terry Wyatt, Getty Images
Luke Bryan is getting ready to release a new album, and The Boot has rounded up everything we could find out about it for our readers. The artist says he is excited for the December 2017 release and can't wait to share it with his fans.
"I get so excited -- like, I hate it when you get so excited about something, but you have to harness your excitement to roll it out properly," Bryan says in an interview with Bobby Bones.
Bryan's new album will be the follow-up project to 2015's Kill the Lights, which debuted at No. 1 on the Billboard Top Country Albums chart and took over the all-genre Billboard 200 at its peak. Bryan snagged six consecutive No. 1 singles off of Kill the Lights as well.
The Title
The Release Date
During that Bobby Bones Show appearance, Bryan dropped a hint that his next album will be released this fall: "Let's just say after Thanksgiving, before Christmas," he told the audience. Then, during his Oct. 6 GMA appearance, Bryan revealed that What Makes You Country will be out on Dec. 8.
The Cover
Bryan's What Makes You Country album cover features the singer sitting on a rock by the side of a lake. Readers can see it above.
The Producers
Bryan's next album is, once again, produced by Jeff Stevens and his son Jody. Stevens has been involved in producing all of Bryan's previous projects.
The Singles
"Light It Up" is the first single off Bryan's upcoming album. Co-written with Old Dominion's Brad Tursi, the sensual tune is an ode to the insecurities of dating in a digital age. Bryan says it was the first song that he co-wrote in the music room of his newly built house, and it grew from the first line in the chorus: "I get so neurotic about it, baby."
"Well, you never heard 'neurotic' in a country song. People would ask me, 'Do you think that word needs to stay?' It's an interesting word," Bryan says.
The rest of the lyrics of "Light It Up" capture the angst of dating with technology: "'Cause I know you're reading your phone / I can't help it, I'm going crazy thinking you might not be all alone ... I feel a buzz in my truck, and I almost wreck it."
Learn More About Luke Bryan's New Single
The Songs
What Makes You Country will contain 15 songs, seven of which Bryan co-wrote. In addition to "Light It Up," Bryan has been sampling some of his new music at VIP meet and greets with fans before recent shows. The singer says it's a habit that gets him in trouble with his team.
"The biggest problem is me performing new songs at my VIP meet and greets," Bryan admits. "I get yelled at severely."
At those events, Bryan has leaked new music to audiences around the country, including the song "Like You Say You Do" and the title track, "What Makes You Country." On his next album, Bryan is also including a song album called "Pick It Up," which he says is dedicated to his sons.
"When you start having a family and boys, they certainly influence who you are as a person and as an artist," Bryan tells Taste of Country Nights. "I've got a song on there that talks about my relationship with my boys, giving them some life lessons and stuff. It's a feel-good song."
The song "Most People Are Good," Bryan says, made his mom cry the first time she heard it.
Luke Bryan, What Makes You Country Track Listing:
1. "What Makes You Country" (Luke Bryan, Dallas Davidson, Ashley Gorley)
2. "Out of Nowhere Girl" (Luke Bryan, Dallas Davidson, Ashley Gorley)
3. "Light It Up" (Luke Bryan, Brad Tursi)
4. "Most People Are Good" (David Frasier, Ed Hill, Josh Kear)
5. "Sunrise, Sunburn, Sunset" (Zach Crowell, Ryan Hurd, Chase McGill)
6. "Bad Lovers" (Justin Wilson, Dallas Davidson, Kyle Fishman)
7. "Drinking Again" (David Lee Murphy, Brad Warren, Brett Warren)
8. "Land of a Million Songs" (Luke Bryan, Jeff Stevens, Jody Stevens)
9. "Like You Say You Do" (Luke Bryan, Michael Carter, Ashley Gorley)
10. "Hooked on It" (Luke Bryan, Dallas Davidson, David Lee Murphy)
11. "She's a Hot One" (Michael Carter, Chase McGill)
12. "Hungover in a Hotel Room" (Rodney Clawson, Chris Tompkins, Josh Kear)
13. "Pick It Up" (Luke Bryan, Rodney Clawson, Matthew Dragstrem)
14. "Driving This Thing" (Rhett Akins, Ben Hayslip, Jody Stevens)
15. "Win Life" (Rodney Clawson, Ross Copperman, Nicolle Galyon)
The Tour
Luke Bryan's Singles, Ranked
More From WQCB Brewer Maine