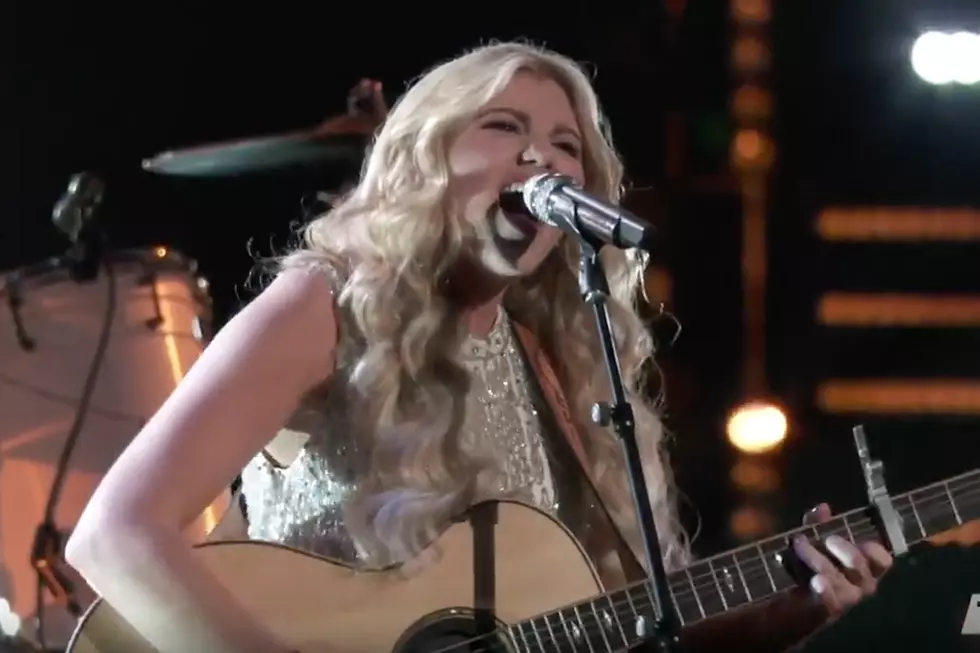 'The Voice': Brennley Brown Shows Her Personality With 'Suds in the Bucket' Cover
NBC
Brennley Brown brought some sugar and spice to The Voice stage on Monday (May 15) with a performance of Sara Evans' "Suds in the Bucket."
The hopeful charmed the audience with her adorable and sweet personality as she sang the upbeat tune, backed by a fun set that featured shimmering silver jewels hanging down from the ceiling. The young signer offered a more upbeat and energetic side of her personality on this night, strumming her guitar while jamming with the band. She even added her own spin to the catchy tune with a breakdown that had the audience clapping along.
Dressed in a glittering white top, denim skirt and a pair of cowboy boots, Brown brought a little sass to her showcase, even flashing a flirty smile at the camera before hitting the signature high note at the end of the song. That earned her a standing ovation from her coach Gwen Stefani, who told her that she's "so gifted and so strong" and that she was "so proud" of her. She commended Brown for taking on an upbeat number, saying it takes a lot of confidence deliver a song of that nature.
Blake Shelton made a compelling comment when he pointed out that for the first time, Brown came off as the 15-year-old she is both visually and personality-wise, which he feels she "needed to do" to remind the audience of her young age, seeing as she typically displays the grace and maturity of someone much older.
Even Sara Evans herself loved the performance, tweeting:
Brown, along with her fellow contestants, is all on the chopping block Tuesday (May 16) when the Top 8 finalists are narrowed down to four in anticipation of The Voice Season 12 finale. The show draws to a close on May 22.
The Most Successful Country Singers From The Voice
What's Happening With Last Year's Winner?
More From WQCB Brewer Maine