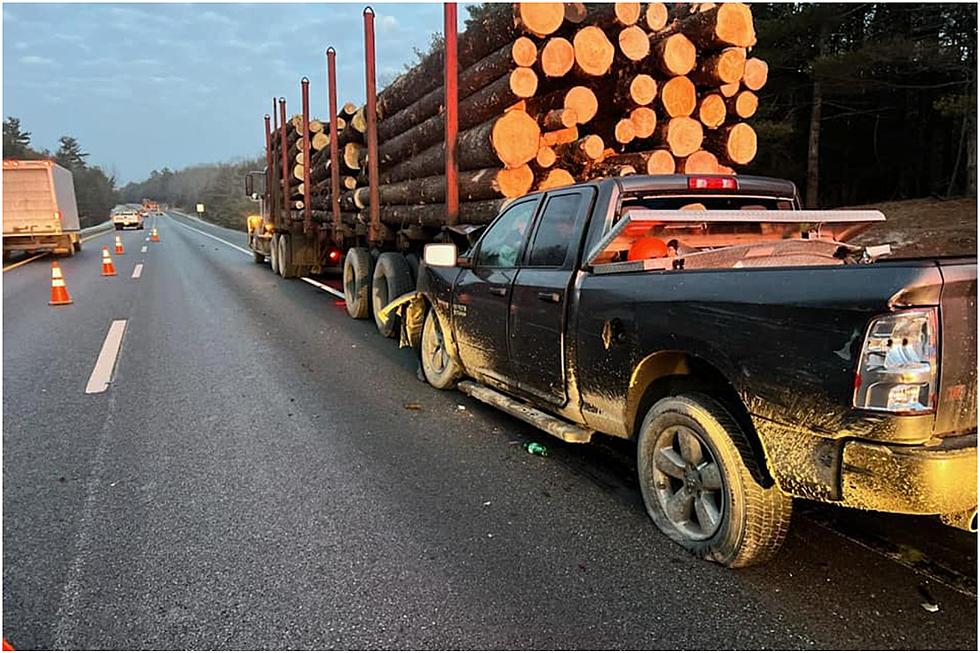 Both Lanes Open on I-95 in Etna after Pickup-Log Truck Crash
Maine State Police
Maine State Police have reopened southbound traffic on I-95 in Etna after an early morning crash.
It's a bad way to start the day and the stuff of nightmares for many of us in Maine. I know whenever I see one of these logging trucks, I try to give them as much room as possible because they scare me.
In a post on the department's Facebook page, Maine State Police shared images of a black pickup truck that had collided with a large tractor trailer carrying full-length logs. Police have not released any information about the circumstances of the crash or whether there were any injuries. The damage to the pickup appears to be limited to the engine compartment and you can see the deflated airbag from the steering wheel.
Traffic has now been reopened to traffic. This incident remains under investigation.
We'll update this story as more details become available. 
Top Ten Worst Bangor Intersections for Car Crashes
With a whole lot of help from the Maine Department of Transportation, we thought we'd dig up the facts and figures of intersection car crashes within the City of Bangor between 2019 and now.
True Events That Happened In Maine That Should Be Made Into Horror Movies
From time to time you see a local headline that reads like the synopsis to a horror movie. Maine has seen its fair share of grizzly murders, ghost stories, and possible proof of cryptid beats in the woods. While some stories may be hard to prove true, their basis is believable enough to live in infamy in local folklore. Here are five movie-grade events that happened in Maine that we'd watch if turned into a horror flick.
More From WQCB Brewer Maine