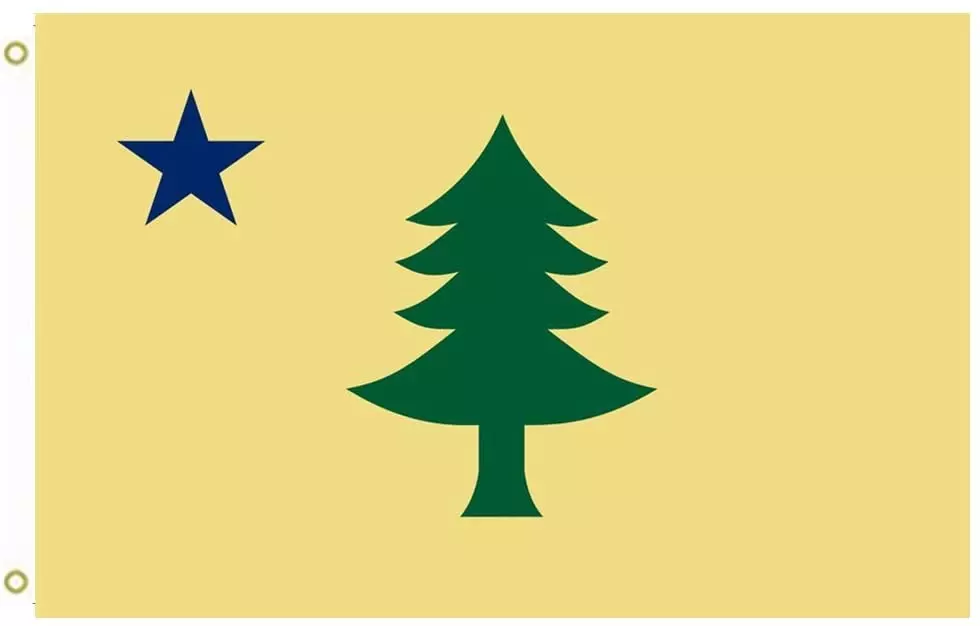 Should This Be Our Maine State Flag, Again? [POLL]
Amazon.com
Legislation was presented to the 130th Maine State Legislature this past January 13th, and if passed we would revert back to the "Lone Pine" flag, our very first State flag.
What do you think?
Opponents of the Lone Pine flag, which first represented Maine back in 1901 and continued to do so until 1909, say that it's too simple and that a child could have drawn it.  While proponents of the change from what we now fly over the State House in Augusta say that our current flag resembles that of what too many other states have, including that of our fellow New England state, Vermont.
While the Lone Pine flag depicted in this post and found for sale on Amazon.com comes real close to the 1901 original, it's a more brushed over version.  The original flag found on Wikipedia showed a more detailed pine tree with it's roots showing.  Although, when the powers that be implemented the flag back in 1901, they also noted that any "buff charged with the emblem of the State, a pine tree proper in the center and the polar star (a mullet of five points), in blue in the upper corner" would do.
As we said prior, Legislative Document 115, "An Act to Restore the Former State of Maine Flag" still hangs in the balance and awaits a vote at some point.  Apparently the proposal faces an uphill battle in Augusta, and we may very well end up where we are right now, with the current Dirigo flag that blows in the breeze across the state.
But Maine Secretary of State Shenna Bellows did indeed speak the truth when she recently said, "Symbolically today, flags remind us of our unity as one people engaged in a common cause, and of surviving difficult struggles together. The design of the flag is made meaningful of the people who embrace it."
Here's 10 Things That A Real Mainer Would Have
READ ON: See the States Where People Live the Longest
Read on to learn the average life expectancy in each state.
More From WQCB Brewer Maine