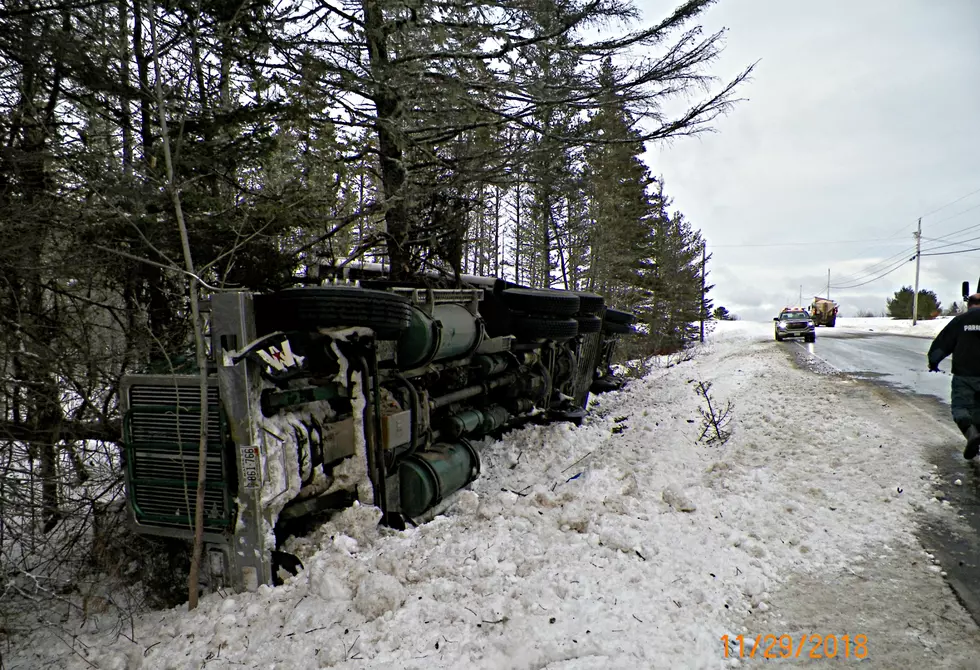 Plow Truck and Tractor Trailer Collide on Route 1 in Amity
Maine State Police
A collision involving a tractor trailer and a Maine DOT plow truck Thursday in southern Aroostook County sent both drivers to the hospital.
State police say 48-year-old Paul Folsom of Houlton was southbound on U.S. Route 1 in Amity in his loaded tractor trailer unit around 1:25 p.m.  A Maine Department of Transportation plow truck, driven by 59-year-old Randolph Cole of Houlton, was backing into a driveway off the northbound lane. Police say the plow of the MDOT truck appears to have been over the center line and partially in the southbound lane.
Folsom tried to raise Cole on a CB radio, but didn't have time. Police say Folsom swerved to the right as his truck was hit by the plow truck's plow. Folsom went off the right side of the road and his rig flipped on its passenger side and struck some trees.
Both drivers were transported to Houlton Regional Hospital, with injuries that were not expected to be life threatening.
The Aroostook County Sheriff's Office, Houlton Fire Department, Houlton Ambulance and Maine DOT also responded to the crash. The accident is still under investigation.
The tractor trailer unit is owned by W.T. Gardner and Sons in Lincoln.
More From WQCB Brewer Maine