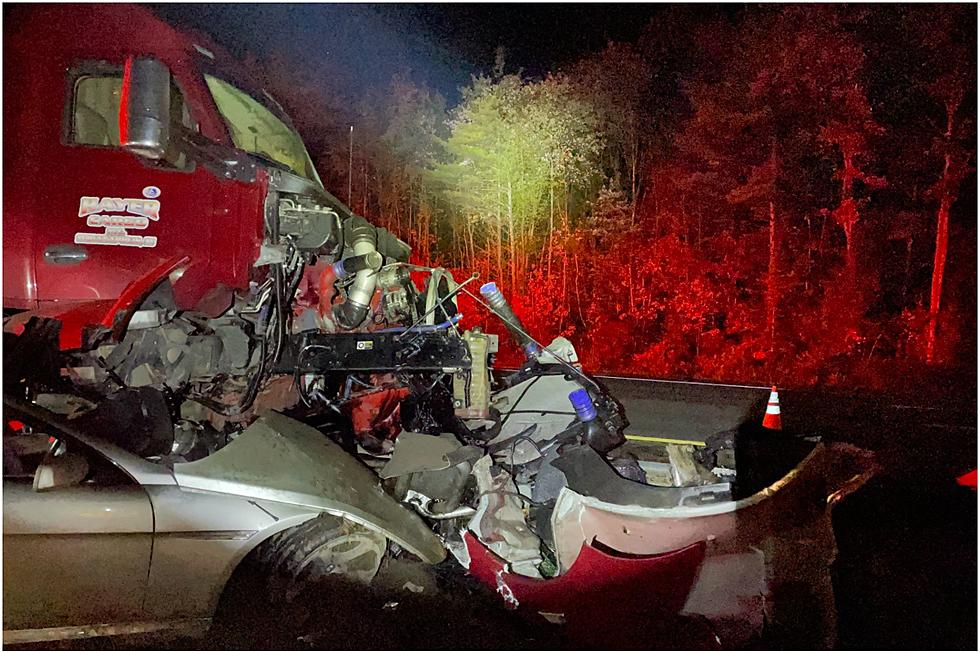 Mass Man Dies after Pulling Out in Front of a Big Rig in Wells
Maine State Police
A Massachusetts man is dead after pulling his vehicle in front of a tractor-trailer on I-95 in Wells.
Public Service Spokesperson Shannon Mills says the crash happened just after 11:00 Thursday night in the northbound lane of I95. The driver of a tractor-trailer, 24-year-old Sahib Singh of Fresno, California, was traveling in the right lane when he noticed a BMW that was parked in the breakdown lane. Singh moved to the middle lane, to avoid any contact with the vehicle.
However, the BMW, driven by 52-year-old Brian N. Auger of Auburn, Massachusetts pulled out directly in front of the tractor-trailer. Officials say Auger was trying to use the crossover, between the north-and-southbound lanes. Singh was unable to avoid Auger and struck the BMW in the driver's side. Both vehicles ended up coming to rest in the median, against the guardrail. Police say it's unknown why the man was trying to use the crossover.
Brian Auger was pronounced deceased at the scene. Sahib Singh, who was hauling bulk goods to Lewiston, was transported to Maine Medical Center with minor injuries.
This crash remains under investigation.
Trucks and Truck Drivers in Maine
28 Things to Do Around Portland for $20 or Less
For a tiny metropolitan, Portland can be surprisingly pricey. To help us all out, I've put together a list of things you can do in and around the Portland area for days when you don't feel like spending a ton just to have a good day.
More From WQCB Brewer Maine