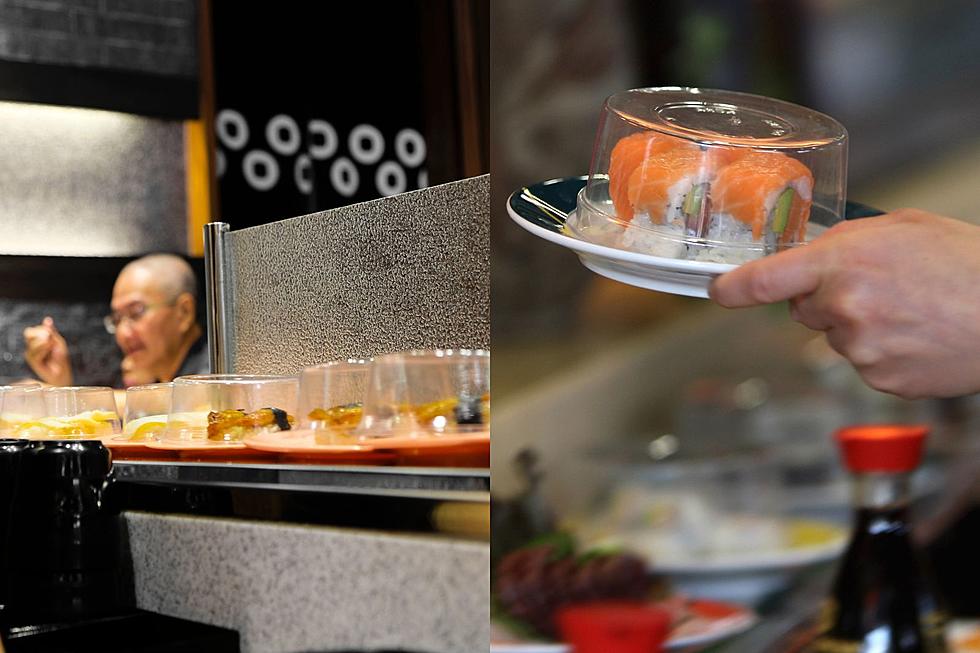 Maine Desperately Needs a Conveyor Belt Sushi Restaurant
Credit: Henry & Co. on Unsplash / David Silverman on Getty
Our state of Maine is no stranger to culinary delights. However, there is one culinary experience that has yet to grace the shores of our beloved state: conveyor belt sushi. This convenient and affordable dining concept, also known as "Kaitenzushi" or "sushi train," has won the hearts of food lovers worldwide. It's about time our Pine Tree State joined in on the fun! 
Originating in Japan, conveyor belt sushi has become a beloved dining experience for sushi enthusiasts everywhere. Imagine a buffet-style feast where the food comes to you. Plates of delectable sushi creations are placed on a rotating conveyor belt that meanders through the restaurant, passing every table, counter, and seat. Folks can simply pluck their desired dishes as they glide by, savoring each bite at their own pace. The final bill is determined by the number and type of plates consumed, making it both affordable and enticing for sushi lovers of all budgets.
The fella behind this innovative dining concept is Yoshiaki Shiraishi, an entrepreneur who faced challenges staffing and managing his small sushi restaurant. In 1958, after five years of tireless development, Shiraishi opened Mawaru Genroku Sushi in Higashiosaka, featuring the world's first conveyor belt sushi system. Its success was overwhelming, and the concept quickly spread throughout Japan, with up to 250 restaurants embracing the delightful concept.
Maine is renowned for its fresh seafood, and there is no doubt that conveyor belt sushi would be a welcome addition to its culinary landscape. With its ability to cater to various tastes and budgets, this novel dining experience would be a perfect fit for Maine residents and visitors alike. Imagine indulging in a diverse array of sushi rolls, sashimi, and delectable appetizers as they parade before you on the enchanting conveyor belt.
Although conveyor belt sushi has flourished across the United States, it has yet to find a place in the heart of Maine. Last year, during a visit to Washington, I encountered the wonders of this type of experience, leaving a lasting impression and forever changing my perception of sushi and how to receive it. I gained, like, 15 pounds in a week. It was awesome.
Unfortunately, the closest conveyor belt sushi place to us is currently Kura Revolving Sushi Bar in Watertown, MA. While it may require a bit of a journey, the allure of this unique dining adventure is certainly there.
So, let us raise our chopsticks in unison and send out the call: Maine needs a conveyor belt sushi place! The time has come to embrace a dining experience that combines convenience, affordability, and, most importantly, the sheer joy of exploring a never-ending parade of sushi.
LOOK: Food history from the year you were born
From product innovations to major recalls,
Stacker
researched what happened in food history every year since 1921, according to news and government sources.
More From WQCB Brewer Maine