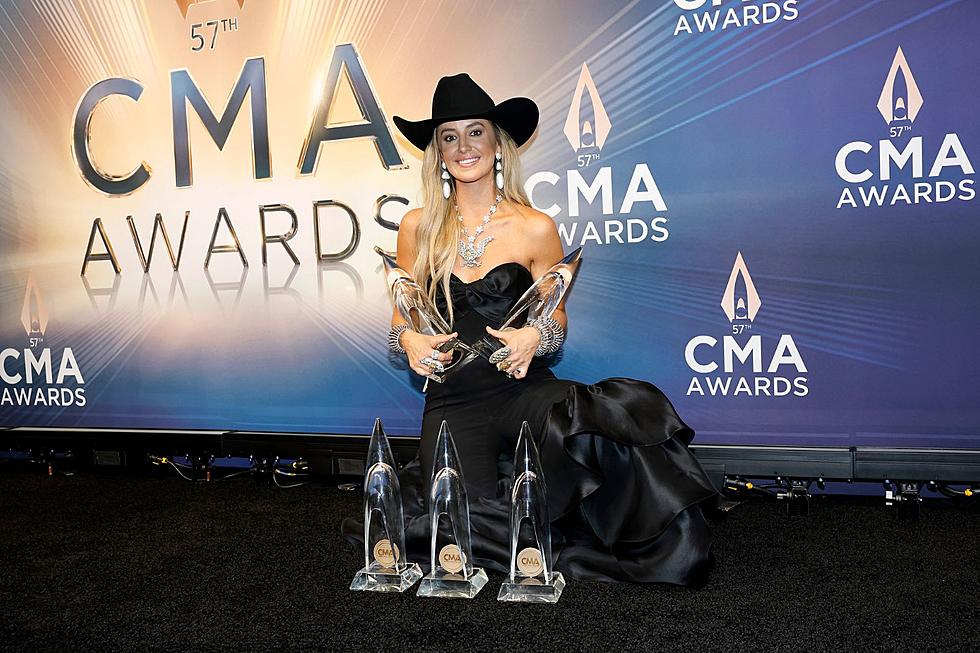 Lainey Wilson, Set to Rock the Bangor Waterfront Next Summer, Dominates CMA Awards
Credit: Jason Kempin / Getty
Bangor really hit the jackpot for next summer.
Lainey Wilson is bringing her 'Country's Cool Again Tour' to the Maine Savings Amphitheater on the Bangor Waterfront on June 29th, also featuring performances by Ian Munsick and Zach Top.
Adding to everything, Lainey Wilson is set to bring some more hardware to the Queen City of the East following her triumph at this year's CMA Awards.
The 57th Annual Country Music Association Awards took place on Wednesday, November 8th, at the Bridgestone Arena in Nashville, Tennessee. The ceremony, hosted by multiple CMA award winner Luke Bryan and NFL Hall of Famer Peyton Manning, turned out to be a historic night for Wilson.
Leading the night with nine nominations, Lainey Wilson tied Merle Haggard and Miranda Lambert for the second-highest number of nominations in a single year. Alan Jackson holds the record with 10 nominations in 2002.
Lainey was nominated in multiple categories, including Entertainer of the Year, Album of the Year, Female Vocalist of the Year, and more. She not only walked away with the prestigious Entertainer of the Year award but also secured Album of the Year for 'Bell Bottom Country,' Female Vocalist of the Year, and two awards for her collaboration with HARDY on 'Wait in the Truck,' winning Music Video of the Year and Musical Event of the Year.
Making history, Lainey Wilson became the first artist to lead the nominations list in their first two appearances on the final list of nominees, having also topped the nominations at the previous ceremony. Additionally, she is the first new female artist nominated for Entertainer of the Year since Carrie Underwood in 2016.
While Lainey had a monumental night on November 8th, the excitement is sure to amplify on June 29th in Bangor!
Lainey Wilson Shatters Record at New York State Fair
Before last night, when we last saw country star Lainey Wilson in Upstate New York, she was an "opener" on the Morgan Wallen show last July at SPAC. Wilson had a few big hits under her cowgirl belt at the time, but she was nowhere near the superstar she is just one year later.
While on tour with MW last summer, she wasn't even the "main" opening act, that spot was reserved for Hardy.
Needless to say, since then her rise has been meteoric.
With a starring role on the hit TV show Yellowstone, smash hits "Wait in the Truck" with Hardy, and "Heart Like a Truck", TV commercials, viral TikToks, and a new album, it's no wonder the breakout artist of 2022 is slaying it 2023!
On Wednesday, the bell bottom-wearin', country song beltin' superstar smashed the attendance record at the Great New York State Fair, Lainey Wilson drew 53,200 people, shattering the attendance record for a state fair concert. The previous high was 43,000 set by Nelly at last year's fair.
Ahead of Thursday night's show with Eric Church at SPAC, our fantastic resident photographer Claude Sawyer snapped these images of Wilson during her record-setting performance in Syracuse. Enjoy!
Gallery Credit: Brian Cody TSM Albany
Which Z Artist Would You Like To See On The Bangor Waterfront in 2024?
Never too early to start dreaming of those hot summer nights at Maine Savings Amphitheater.
Gallery Credit: Kid
10 Reasons Why Bangor Is Way Better Than Portland
Here's why Bangor, Maine's Queen City, is far superior to Portland, which doesn't even have a good nickname. Wait! What about Forest City, you ask? Please, don't talk to Bangor about forests. You can't handle our 600-acre Bangor City Forest!
Gallery Credit: TSM
More From WQCB Brewer Maine