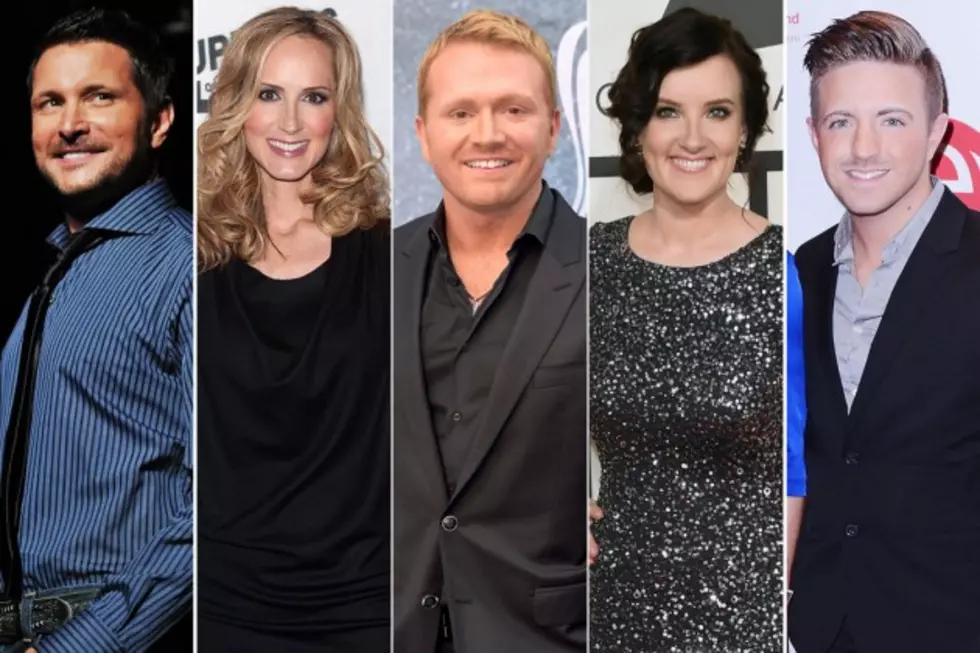 Who Says You Can't Be Gay in Country Music?
Mike Coppola / D Dipasupi / Rick Diamond / Jason Merritt / Stephen Lovekin, Getty Images
Herndon, 52, made a poignant statement about why he'd chosen to stay in the closet for so many years. His most recent album was titled Lies I Told Myself, and he told Entertainment Tonight that the biggest lie he told himself was "that I couldn't be gay in country music. I've dreamed about being in country music since I was 6 years old. It's my life, it's what I do, it's who I am, and I went to great lengths to cover up that fact to be a country star."
That sentiment inadvertently tells a hard truth about country music: namely, that it is arguably the only genre of music in which sexual orientation is still an issue to any meaningful degree. Much of that stigma appears to stem from its demographic makeup.
"I grew up in a small town in south Alabama, and that was just a word we whispered growing up, and it wasn't something that was okay,"  Herndon tells Taste of Country. "I was programmed at a very young age to think that I was broken. I carried that into adulthood, even though I had an awesome and affirming and loving family. But I carried it into my adult life, and I wanted to be in country music, and that was just such a taboo. It was also something we didn't talk about, and it was definitely not something you could be and be in country music. Not in a world of good ol' boys and pickup trucks, and all of the things that American values are made of."
I was programmed at a very young age to think that I was broken.
Herndon came out in a carefully orchestrated television interview, while Gilman made his announcement directly to his fans via a video he posted to YouTube. The former child star says the timing of his statement was not planned to coincide with Herndon's.
"I guess when something's meant to be, it's meant to be," he tells us. "Totally coincidental. I had no idea. I know Ty and have been a huge fan of his, even before I started my own career. But we hadn't spoken to each other in a long time. It just happened. I have no idea how the stars aligned or whatever."
Coming out was something Gilman hadn't really thought about until just a few months prior to his announcement.
"As funny as it may seem, I never really addressed the whole situation as far as a personal aspect. I never thought about it," he says. "I dated girls here and there, but I never really paid attention, sadly for them. I just was always Billy the singer. My head was always toward my career, my head was always toward getting my voice back when it changed, and then going to Nashville to song write, and doing my charity work, and doing this music. It was always just me, so I never really thought, 'Am I, or am I not [gay]?' It just never really mattered. I don't know how to explain it any other way."
That changed when Gilman met his partner through a fellow musician in Rhode Island. The country singer realized he would have to address his sexuality publicly four or five months into the relationship, when a professional photographer spotted them together at a festival.
"I thought, 'This is just gonna keep happening,'" he recalls. "'I gotta get on focus here and try to come to terms with how I'm going to break this to my fans.' I wanted to be at the forefront of the whole situation, rather than people hearing it from somewhere else and in false statements."
Both men had trepidation about the reaction from both the industry and fans, but the environment in Nashville is changing, in a microcosm of the rapidly shifting national views on equality.
Country Stars' Reactions to the Supreme Court's Gay Marriage Ruling
"Country music has grown up so much," Herndon notes. "We're on the world stage now, and I just felt like it was a good time in Nashville for me to be out and be myself, and be the same old redneck I've always been. You know, I'm just as laid-back and country and normal as I can be, and it took me a long time to realize that nothing is broken, and that there's a lot of kids out there that probably feel the same way I did growing up. So I had a responsibility to step out and say, 'Hey, you can go out in this life and be exactly who you want to be. You've just got to be tougher and do it better.'"
"Ninety percent of the people I work with are in Nashville, and they have their own convictions about it, and the stigma that surrounds it, if you will, so I was just very apprehensive about how to pull it off," Gilman says.
"And I went through two months of 'I can't, I can't, I can't yet ... ,' because I was nervous. You just don't know. It's my livelihood and career, and hopefully one that I will have for a while," he adds with a laugh. "So I was nervous to put that on the line. But the situation is bigger than that. It was a bigger situation than just a career."
He told his family first, and then his business team — many of whom have been with him from the beginning of his career — and they were instantly supportive.
"But they were also very adamant about, 'You've got to put into consideration that this industry may not sit well with this. You may have to do something different. Just put that in your head,'" he relates. "So it's a real come to terms situation. You really come to a core realization of hardcore facts of life. It wakes you up a little bit.
"They said, 'You know, we have heard comments about you in this regard forever.' And I thought, 'Really? How silly.' They said, 'If you weren't, we weren't gonna say anything, because we didn't want to put that in your head and make you feel uncomfortable about people's perception.' But they said, 'Now that you are, and you're okay and you're great and you're prospering, we can say that it's been tough, with that label crossing your path forever.' I just went, 'Hmmm, there is a bigger situation. I just thought maybe I wasn't good enough.'"
So far, the reaction has been heartening.
"If it weren't for the fans of country music out there, I don't think that I could have been brave enough to do this, because I have always had their support through a lot of tough times in my life," Herndon says." And I didn't think this would be any different. There was a moment of fear in my head that they might not love me anymore, but loving me is loving my music. It's what I do. It's who I am. It hasn't changed."
"I haven't played one show, by the grace of God, that hasn't been sold out, and by country fans and people from the LGBT community," he adds. "It's just been an awesome, supportive, loving atmosphere. I have felt very embraced. I pray every day that continues. That I get to live my life and sing my music, because that's what I do."
It has not been something where I went, 'Oh, I just put the last nail in my coffin.'
"The media embraced me. I've gotten letters from ... I won't say who, from people in the industry saying this will only lead you to better places, whether it be in this market or somewhere else," Gilman says. "Which I hope it will be in country, because literally I think I came out yodeling or something — it's just bred into me. Hopefully this will be a genre where I can say I'm home, because I certainly feel at home. Of course, artists came out and supported me. So far it has been okay. It has not been something where I went, 'Oh, I just put the last nail in my coffin,'" he says with another laugh.
That's a far cry from 2010, when Chely Wright became the first country star in the history of the genre to come out publicly. She says she experienced a serious backlash.
"My record sales went directly in half," she told Autostraddle.com the following year. "My life has been threatened. I get nasty letters every day, 'I'm through with you Chely Wright, you're going to hell.' Sometimes people forget that people who sing or make movies, this isn't just a hobby for us. This is how I pay my bills. In coming out I had a feeling that it would diminish my wage earning, and that feeling was correct. And, I am fine with that."
Both Herndon and Gilman acknowledge that the fear of a similar reaction was part of their thinking before coming out, though they are circumspect about speculating on people's motivations.
"I really don't have that answer, other than it comes from a place of a more conservative viewpoint, maybe, which comes back to maybe a more religious standpoint," Gilman says. "It could be the way you were brought up, and what your mother and father conditioned you to believe. Or it could be your own beliefs that you found as you got older, and the lifestyle that you live. But there is a little bit of a hangup, and as I came to grips with the situation and me having to [come out], I thought, 'Maybe little by little, step by step it'll show people that it's not a wacky thing. It's just a normal thing.'"
It should be just about the music. Is it a good song, and is it sung well? That should be the playing field for anyone, shouldn't it? I would certainly hope so.
"One of the things I stay away from is any conversation about God and religion, because it's such a personal thing," Herndon notes. "However, I do counsel with young kids. My good friend Mitchell Gold has a foundation called Faith in America, and I work with different foundations, and my main goal in all of this is to let those kids — anywhere in the world, but a lot of them are in the south — let them know that they are not gonna burn in hell for who they are, because I also believed that for the majority of my life. I serve a loving, awesome, true God, and He blesses my life, and it's such a personal relationship. People are gonna say what they're gonna say, they're gonna feel what they're gonna feel, and for me, it's just all about what you grew up with, what you were educated with. And it's time for a new education with this ... it's about love. We love who we love, and God loves us. That's it."
Wright served as an important example to Herndon.
"Chely Wright is the one that's the brave one," he states. "She did this at a time when the water was not as calm, so I could not have made it through this without her. She has been my friend, my counselor and most of all, my confidante and my encourager through all of this. I had the grace of knowing what I was getting into because of her, and she's amazing. I like to remind people that she's also still the same old redneck girl!"
Wright received just one public declaration of support when she came out —  from Mary Chapin Carpenter — and some private messages, but a surprisingly large number of country stars have publicly expressed their support for equality, including names like Willie Nelson, Dolly Parton, Reba McEntire, Carrie Underwood and even Toby Keith. Wright has rebounded over the last few years, marrying her partner, Lauren Blitzer, giving birth to twins and becoming very active in LGBT issues. She raised nearly $250,000 to fund her new album via Kickstarter.
That may be indicative of what the future holds for equality in country music. Just a few short years ago, being gay was widely considered a career-killing, hot-button issue, but it's seemingly less and less important as more people have simply demonstrated the truth of their lives in public. Kacey Musgraves took CMA Song of the Year honors in 2014 with "Follow Your Arrow," which takes a no-big-deal attitude toward same-sex relationships, and was also co-written by two openly gay songwriters, Shane McAnally and Brandy Clark — two of the hottest writers in contemporary country music.
Clark is also a critically acclaimed performer; her 2013 debut album, 12 Stories, was one of the most well-reviewed albums of the past several years, earning her a 2015 Grammy nomination for Best Country Album, as well as the all-genre category of Best New Artist. Clark has never made any secret of her sexuality, and she doesn't think it matters.
"I don't write songs for straight people or gay people or black people or white people," she says in an interview with the Washington Post. "I write songs for people. I want them to put themselves in these songs. I would feel that way if I was straight."
"I think people underestimate rednecks," she tells Rolling Stone. "People stereotype rednecks and small-town people the same way they might stereotype gays and lesbians, and it's not really fair ... Some of the smartest and most open-minded people I have known in my life, people would look at them and say, 'That's redneck.' I've never felt any hatred from rednecks towards me for my sexuality."
Herndon has a new single with Andy Griggs and Jamie O'Neal, and he's formed a self-owned label, Journey On, to release his upcoming album, while Gilman is releasing a video for his new single. The jury is still out on whether the acceptance they have found with fans will translate into marketplace success.
Statistically there were a few hundred kids in the south that killed themselves last year, and I'd like to see that get down to none.
"That will be the sign," Gilman says. "It should be just about the music. Is it a good song, and is it sung well? That should be the playing field for anyone, shouldn't it? I would certainly hope so ... I just hope that this industry that I so emphatically love will be there. I just hope to God they will be there."
Adds the young singer, "One thing I want to do, whether it's in my coming out or in any situation, I always want to handle it with the utmost respect that I can give, because that's how I was raised, and that's how I want my children to be raised. If things are handled with respect from each party, hopefully soon enough it will become, 'Who cares? The song is great. Move on.' Simple as that. Hopefully in time it'll just be a simple, 'Okay, and ... ?' It's just about me being happy and hopefully being in my genre of music, and it just doesn't matter. It's literally as easy as that — but unfortunately, I guess it's more complicated than that."
Herndon has followed Wright into advocacy, and he is hopeful that he can make a difference by his own example.
"Statistically there were a few hundred kids in the south that killed themselves last year, and I'd like to see that get down to none," he says. "The very idea that you would get kicked out of your home and your church for who you are, from the ages of 12 to 18, and be homeless and loveless for uttering some brave little words that you were different — that breaks my heart, and I am very passionate about, we've got a lot of things going right now to make the change happen that I'm very excited about."
UPDATE: Since this article first posted in 2015, both Wright and Herndon have released new music and continued their advocacy. McAnally produced the acclaimed all-star "Forever Country" project that celebrated the 50th anniversary of the CMA, and Clark has been nominated in the 2017 Grammy Awards for her highly-acclaimed second album, Big Day in a Small Town, while Gilman placed second on the most recent season of The Voice in 2016.
CMT host Cody Alan came out in a post to social media on Jan. 12, 2017.
Country Artists Who've Come Out
More From WQCB Brewer Maine