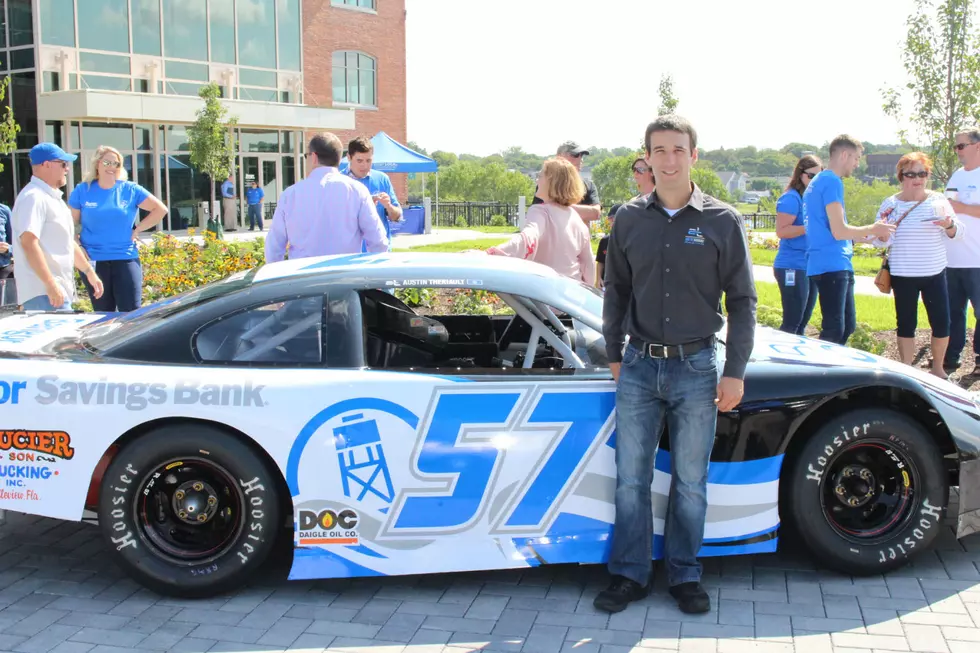 Fort Kent's Austin Theriault Gears Up For Oxford 250, Unveils New Paint Scheme
92.9 The Ticket
Austin Theriault's No. 57 car will have a new paint scheme for Sunday's Oxford 250 at Oxford Plains Speedway. The Fort Kent native appeared at Bangor Savings Bank on Hamlin Way in Bangor on Tuesday to show off the car's new look.
The paint scheme displays the Bangor Savings Bank logo and features the Buoy Local Program, which provides incentives for customers who shop locally.
"I think it came out great. It's one of the first times I've had a white car, racing late models," Theriault said. "I drove the Schrader car last year, and we always brought white to the race track, but as far as seeing a white 57, that I've driven, it really stands out."
Theriault, 24, will be racing in the Oxford 250 for the sixth time and is seeking his first win at the event this weekend. He was involved in an accident when he last raced in the 250, finishing in 35th place. Theriault was a top-four finisher in each of his first four races at the annual event.
Theriault, the 2017 ARCA Racing Series champion, hopes this is the year he takes the checkered flag at Oxford.
"I'm not a bragging person, but I think it's a lot of bragging rights, the trophy that comes with it and the ability to say that you've won the Oxford 250, which I feel like is one of the top five biggest short track races in America. There's really good drivers that have won that race, there's really good drivers that have never won that race."
It will be his 2nd Maine race of the season. Last month, he returned to his home track, Spud Speedway in Caribou, for the first time since 2012. Theriault was hoping for a better finish at the Pro All Star Series Aroostook Savings and Loan Firecracker 200, but a mechanical issue ended his run early.
Austin Theriault unveils new paint scheme
More From WQCB Brewer Maine