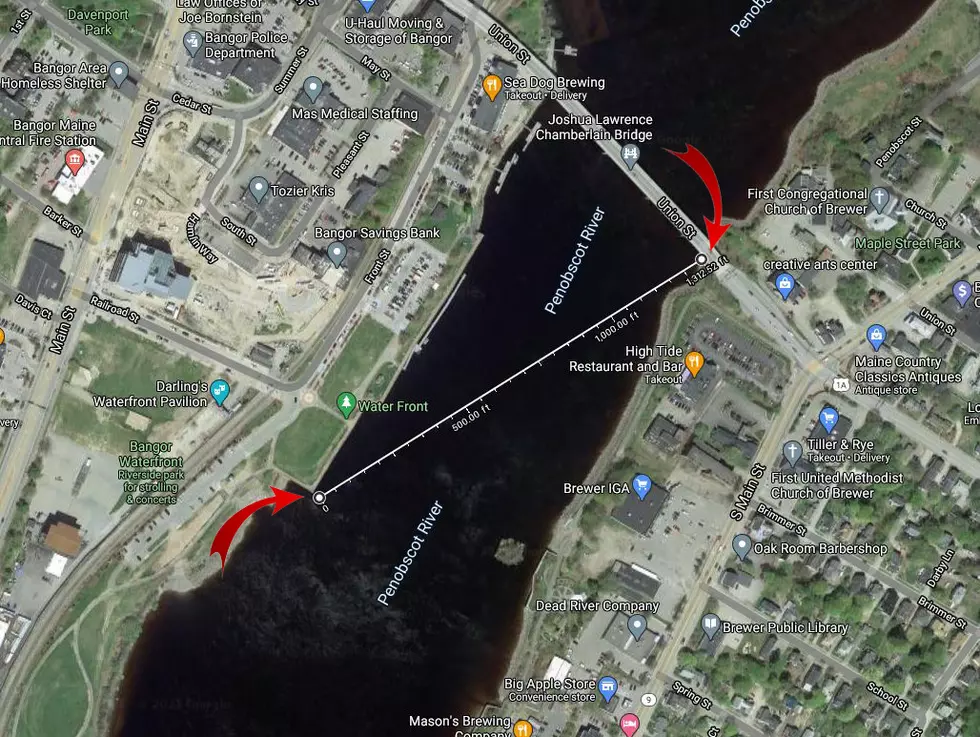 Could The Evergreen Container Ship Block The Penobscot River?
Google Maps
It was fabulous news this morning when we heard that the Evergreen container ship had finally been freed from blocking the Suez Canal, releasing the traffic jam behind it and opening up the floodgates so that the world's cargo is moving once again.
It was quite the undertaking though, as the ship was fully loaded with cargo weighing in at over 250,000 tons.
We've seen the pictures online, and we've wondered just exactly how big of a ship the Evergreen is. The Evergreen is 1,312 feet in length and 192 feet wide, an unbelievably huge ship.
So how does it measure up to some of the waterways around here?  It's crazy, actually.
Let's just say that the Evergreen wouldn't displace as much water as it does and not run aground this side of Searsport.
The Penobscot Narrows Bridge that hooks up Verona Island and Prospect is 446' high, while the Evergreen when fully loaded is about 107' tall.  So we guess it's clear sailing under that.
But yes, if the Evergreen went cockeyed it would plug up the Penobscot River easily by the Penobscot Narrows Bridge.
Now once again let's say that the Evergreen made its way under the bridge all the way to Bangor.  Would the massive ship plug up the Penobscot by Bangor's Waterfront?  Easily. The Evergreen would actually span from the tip of the Bangor Waterfront to the Brewer end of the Joshua Chamberlain Bridge.
Now the Evergreen could make its way around Bald Porcupine Island and easily pull into Mount Desert Narrows, giving folks in Bar Harbor an eyeful.  But just imagine, the ship would span from the far end tip of the Bar Harbor Town Pier to the far end of the Bar Harbor Inn.
The 5 Best Mexican Restaurants In Eastern Maine
Best Chinese Food In Eastern Maine
POLL RESULTS: The Best Pizza In Eastern Maine For 2021
Top 10 Best Steakhouses In Eastern Maine
Popular Eastern Maine Take-Outs
More From WQCB Brewer Maine