Keith Urban Shares Why 'American Idol' Is Especially Important to Him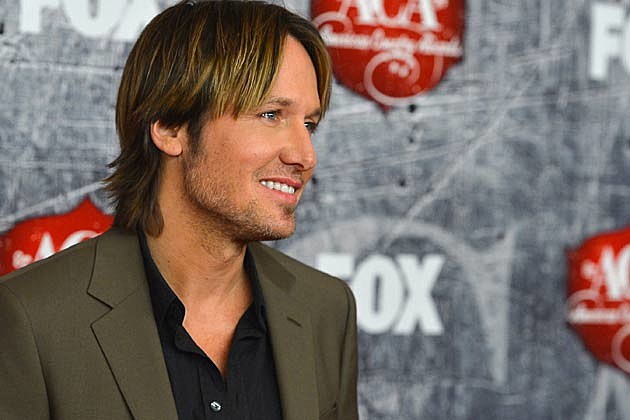 Keith Urban may be Australian, but the singer's reason for joining 'American Idol' as a judge proves that the American Dream is a concept that transcends cultures and geographic divides.
The idea that someone with God-given vocal talent deserves a chance to have their voice heard is one that is universal, and that's why the show — which will launch its 12th season on Jan. 16 — is an important asset to Urban. After all, it's that very idea that helped him build a successful career as a country star.
"'American Idol' really personifies the American Dream," Urban, who will make his debut as a judge on the new-look panel this season, said (quote via GAC.) "It is what brought me all the way to America. It completely provides that for someone who's come from nothing. They just have raw talent and a hunger and a desire to become a real artist and the show completely gives them that chance."
When stripped down to the basics, Urban's success story is not that much different from the contestants who compete on 'Idol' each season. That's why his role as a judge will be a invaluable to the hopefuls that take the stage in 2013.
We're glad that the drama between fellow new judges Mariah Carey and Nicki Minaj hasn't spoiled Urban's positive feelings towards the show. He could end up being the "rock" who anchors this year's panel.
Next: See a Pic of Keith Urban Way Back When
Josh Turner is the only artist to make this list of the Top 10 Christian Songs twice. 'Me and God, featuring Ralph Stanley, is a fun look at how friendly one's relationship with the Big Man can be. Stanley's weathered voice forces one to do a double take at the stereo every time. Turner has won numerous Dove Awards for his inspirational music, and is never shy about discussing his family's strong faith.
Photo by Kevork Djansezian/Getty Images
'Holes in the Floor of Heaven'
Some of the best Christian songs in country music lead families through tragedy. Steve Wariner's 1998 hit would bring a stone to tears. Anyone who's ever lost a spouse, parent or child can relate to this hopeful song about what awaits us all after we pass. 'Holes in the Floor of Heaven' is a popular funeral song, even 13 years later.
'When I Get Where I'm Going'
Brad Paisley Feat. Dolly Parton
This award-winning No. 1 hit for Brad Paisley was brought to life by his selfless invitation to Dolly Parton. Parton provides the angel wings that this song rides upon. Paisley often includes Christian themed songs on his albums, but this is the only one that's ever been released as a single. 'When I Get Where I'm Going' was an easy choice for this Top 10 Christian Songs list.
This is the song that launched Carrie Underwood's country career, as there was a lukewarm response to 'Inside Your Heaven' on non-pop stations. CMT recently named 'Jesus Take the Wheel' as the fourth best song of the decade. Underwood has since proven herself to be a very strong Christian capable of carrying a song of faith, but she has only offered one other Christian song, 2009's'Temporary Home,' as a single.
This song was originally released as a Christmas single in 1993, but the overwhelming response makes it possible to hear it at any time of year. Alabama's Randy Owen says it's one fans ask him about most often. One could argue it's a precursor to Underwood's 'Jesus Take the Wheel.' Both Christian songs are about letting God take over in troubled times.
'Go Rest High on That Mountain'
There is not a more popular song for funerals than Vince Gill's somber yet uplifting afterlife ballad. Gill's vocal performance is extraordinary on 'Go Rest High on That Mountain.' His patience on this over five-minute ballad pays off in a big way. Gill began writing this song after Keith Whitley's death in 1989, but didn't finish it until the death of his brother four years later. It makes out list of the all-time Top 10 Christian Songs, but surprisingly, it was only a Top 20 single for Gill in 1995.
'Three Wooden Crosses' is the ultimate redemption story, and Randy Travis is the perfect person to tell it as he has his own story to rely on for inspiration. The hook at the end of the song takes your breath away. There's no doubt this Christian song changed lives when it was released in 2003, and continues to inspire listeners today.
This No. 1 hit for John Michael Montgomery still surprises fans who may have missed the message when it was released in 2000. Jesus comes down from the cross to protect the little girl from her parents' abuse and violence. Years later, when she is with a family who loves her, she becomes aware of the miracle. The song works as an inspirational Christian song, but it's also capable of touching those of other faiths. It's just a dang good story.
The debut single from Josh Turner makes our list of the Top 10 Christian Songs and sets the tone for a career that would rack up Dove Awards faster than dollars in the offering dish. Some may remember this song's controversial video, which had some parental groups arguing that it encouraged suicide. That all seems silly now. To be honest, it did then, too. Turner's metaphor for temptation is sharp and effective. He has never used his music as a conversion club.
The song that lands at No. 1 on our list of the Top 10 Christian Songs has it all: a great story, an inspirational message and a brilliant vocal performance. Ronnie Dunn builds up the final chorus like a movie director working toward a film's climax; it's a goosebump moment at live shows. Dunn hadn't written or performed a great Christian song prior to (or after) this 2005 hit. It's as if he spent himself on this one song.